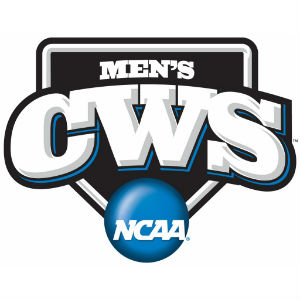 Josh Sborz pitched the game of his life, giving #3 seed UVA seven shutout innings in his first start in more than a month, and the Cavalier offense jumped on Maryland early and often, as Virginia swamped Maryland, 11-2, on Monday night to earn the program's third College World Series berth in the past six years.
Virginia (49-14) completed a rally from a 5-4 Game 1 loss that saw ace Nathan Kirby beaten up and the 'Hoos confidence shaken after leaving 14 runners on base. The Cavs won Game 2 on Sunday by a 7-3 final, but had to use projected Game 3 starter Artie Lewicki to close out the last three and a third innings, forcing coach Brian O'Connor to go with the up-and-down Sborz, his #2 starter most of the season before being demoted to the bullpen in early May.
Sborz (5-4) struggled early, walking two of the first three batters he faced before getting cleanup hitter Jose Cuas to hit into a 6-4-3 double play that buoyed his confidence.
"Josh hadn't started in three weeks and hadn't really pitched much at all in three weeks. When his team needed him the most, he stepped up and was absolutely dominant for seven innings," O'Connor said of Sborz, who was consistently hitting 94 mph on his fastball and had his slider working magic, using the slider to induce the double-play ball that ended the first and as his out pitch while racking up nine strikeouts.
The Virginia offense got things going after the Cuas double play, getting on the board with a Derek Fisher RBI single and a two-run triple by Kenny Towns to go up 3-0 in the first.
UVA finally chased surprise Maryland starter Bobby Ruse (7-3), making just his fourth start of the year for the Terps, in the third, putting up another threespot with a Towns two-run single and a brandon downes RBI single that made it 6-0 Virginia.
And it would stay that way seemingly forever, as Sborz, who averaged just over five innings per start in his 12 starts in 2014, ate up innings, giving up four hits and walking three in his seven innings of work.
"I took the game one inning at a time," Sborz said. "I took it as a reliever. Just getting one inning done and then thinking about the next. I really only had two pitches today. I was keeping the ball down most of the time and I had a good defense behind me. So it was pretty easy to attack and let them hit the ball."
Maryland (40-23) finally got on the board in the eighth on a two-out, two-run double by Blake Schmit off reliever Austin Young that forced O'Connor to go with closer Nick Howard to get the last out of the eighth, which he did on one pitch, inducing a grounder to shortstop from Tim Lewis to end the threat.
The brief spasm of life for Maryland came to a crashing halt in Virginia's half of the eighth, which saw the 'Hoos erupt for five runs, getting a two-run single from Branden Cogswell, a two-run double from Daniel Pinero and an RBI double from Mike Papi to put Virginia up 11-2 going into the ninth.
From there it was a countdown to the third out, which Howard got with a swinging strikeout of Charlie White.
"There are only eight teams that can go to Omaha. Unfortunately, we got matched up against an absolute monster in the Super Regional at their place. Every guy in their lineup is dangerous. That's an
absolute college baseball monster there," Maryland coach John Szefc said.
Virginia will open play in College World Series on Sunday against Mississippi, who won the Lafayette Super Regional in three games over Louisiana-Lafayette. Game time will be 8 p.m. ET and it will air on ESPN2. The third-seeded Cavaliers are the highest seed to advance to Omaha.