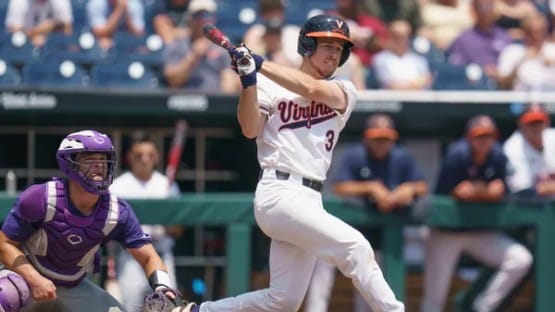 Virginia catcher Kyle Teel, projected ahead of the 2023 MLB Draft to go as high as third overall, dropped a bit before being taken with the 14th pick by the Boston Red Sox.
The bonus slot for that selection is $4.66 million, so, don't feel sorry for Teel, the 2023 ACC Player of the Year.
Teel, the Buster Posey Collegiate Catcher of the Year, slashed .407/.475/.655 in 2023, with a 1.130 OPS, 13 homers and 69 RBIs.
Behind the plate, he had a .995 fielding percentage, threw out 15 of the 24 runners who attempted a stolen base and managed a pitching staff that sported the fourth-lowest ERA in college baseball.
Teel was the second catcher taken in the first round. Kansas City, picking eighth, took Texas high-schooler Blake Mitchell, an LSU commit who had rated as the 14th-best prospect by MLB.com ahead of the draft.
The bonus slot for the eighth pick is $5.98 million, so, Teel gets in the range of $1.3 million less to sign.
But then, he's signing with the Boston Red Sox, not the Kansas City Royals.