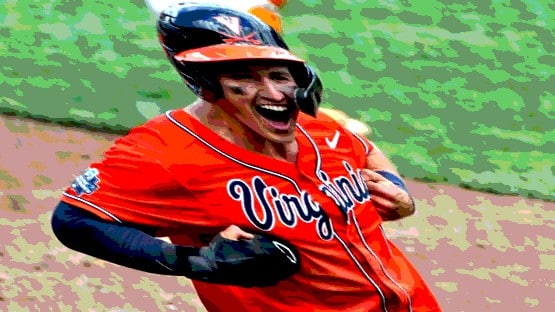 The Oakland A's are historically bad, but it's not because of Zack Gelof – who is hitting .308, with a .993 OPS, since being called up at the All-Star break.
The 2021 UVA baseball alum has had himself a week, going 14-for-29 over his last seven games, with a pair of four-hit games dating back to last Sunday's 8-7 loss (what else?) in Washington.
Going all the way back to his debut on July 14, Gelof has eight homers, seven stolen bases, and for a team that is 34-90 after a 12-1 loss to the Baltimore Orioles on Sunday, he's been worth 1.5 wins above replacement in his 31 games played.
Project that out over a full 162-game season, and you're talking All-Star numbers for Gelof, a second-round pick in the 2021 MLB Draft, who hit .316 with 16 homers and an .874 OPS in his three seasons at UVA, which included one College World Series appearance, in 2021.
More perspective on the WAR number: he's added 1.5 wins to an A's team that has gone just 9-22 since he was called up a month ago.
And he's not just a flash in a pan. His numbers in his brief time in the minors – 909 plate appearances in 201 games over parts of three seasons – foretold what he has been able to do to this point.
In his MiLB time, Gelof slashed .292/.381/.503 with 37 homers and an .884 OPS while making the adjustment from third base, which he played in college, to second, a more demanding position that he is still getting the hang of now at the MLB level.