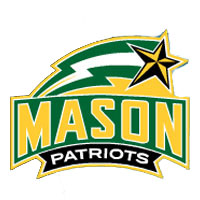 George Mason cut it to one possession in the final minutes, but Massachusetts finished 8-for-8 from the charity stripe to hold on for the 70-64 win in the Mullins Center. The Patriots climbed out of a 16-point deficit, but could never tie it up. Four Patriots finished in double-figures led by Otis Livingston II with 15 points.
GAME NOTES
-For the second straight game, shooting troubles plagued Mason early as the Patriots shot just 29.0 percent (9-31), including an 0-for-10 effort from three-point range, in the first half. UMass took advantage of the shooting troubles and led 36-22 at the break after shooting 43.8 percent (14-32) in the period.
-A 6-0 Patriot spurt cut an eight-point deficit into a 12-10 ballgame with 11:34 to play in the first half, but UMass used a 14-1 run through the next media timeout to grab a 26-11 advantage with 7:28 to play. The Minutemen held their largest lead of 16 points in the first half following an Antwan Space jumper before Mason used a 6-0 run to cut it to 10 points, 30-20, with 2:18 to go.
-Trey Davis converted a four-point play as UMass closed the half with a 6-2 run.
-DeAndre Abram opened the second half hitting Mason's first and only three-pointer of the contest and as the Patriots trailed by 11 a couple minutes in, Jalen Jenkins sparked a 9-3 run, bringing the Patriots within single digits, 44-36, with 14:32 to play. UMass pushed its lead back out to double digits, but Mason continued to fight and using another spurt, cut the score to six points, 50-44, with 11:26 to play.
-The Patriots kept the game within single digits and following a pair of free throws from Thompson and a bucket from Marko Gujanicic, Mason setup the first single possession game since the first half with a 60-57 contest with 4:12 left.
-Jaire Grayer would bring Mason within three again with just over two minutes to go before UMass finished strong for the win.
STAT BREAKDOWN
-Mason shot 48.3 percent (14-29) in the second half to finish with a 38.3 percent shooting efficiency for the game. Led by a 5-of-5 effort by Livingston, the Patriots were 17-of-25 from the free throw line and won the rebounding edge, 37-36. Jaire Grayer pulled down a team-best seven rebounds, followed by Jenkins with six rebounds and 10 points.
-UMass shot 42.4 percent (25-59) from the field and 86.7 percent (13-15) from the free throw line. Jabarie Hinds led the Minutemen with 17 points followed by Trey Davis and Antwan Space with 16 and 15 points, respectively. Hinds led the Minutemen with four assists as the home squad tallied 18 in the game.
-UMass used 12 Mason turnovers for 16 points and converted eight offensive rebounds into 13 second chance points, while finishing with 34 points in the paint.
NEXT ON THE COURT
-Mason returns home to welcome in-state rival VCU on Wednesday, February 24. Tip in EagleBank Arena is slated for 7 p.m. on MASN.