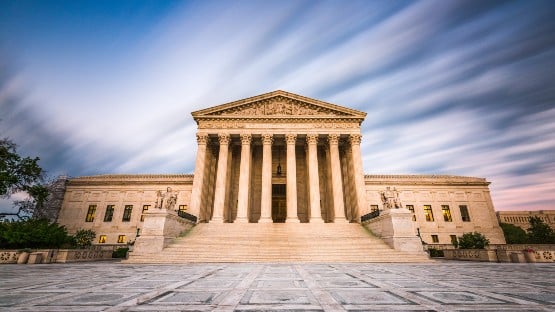 The U.S. Supreme Court granted an emergency stay of an appeals court order that had halted construction on the Mountain Valley Pipeline.
The brief order lifted the stay that had been in place since the Fourth Circuit Court of Appeals had ruled in favor of The Wilderness Society, which is challenging the provision in the debt-ceiling deal approved by Congress last month that included language approving the pipeline project and declared that construction and operation of the MVP "is required in the national interest."
The suit filed by the Southern Environmental Law Center on behalf of The Wilderness Society argues that the debt-ceiling deal language is unconstutional.
The appeal filed by MVP argued that the Fourth Circuit had overstepped its bounds in granting the stay, saying the court didn't have jurisdiction.
"In all events, Section 324 is a valid exercise of Congress's Article I powers to establish standards for environmental permitting and to prescribe the jurisdiction of the lower courts. In exercising those authorities, Congress did not impinge on the Article III judicial power," lawyers for the company wrote in a legal brief.
"We are very disappointed by this latest development, but will continue this important fight," said SELC Executive Director DJ Gerken. "We stand by our argument that the MVP rider—Congress's reckless attempt to bless a single gas pipeline—violates the separation of powers and is unconstitutional."
"Allowing construction of this destructive and unnecessary fracked gas pipeline to proceed puts the profits of a few corporations ahead of the health and safety of Appalachian communities," said Jamie Williams, president of The Wilderness Society. "The Mountain Valley Pipeline is a threat to our water, our air, and our climate. We will continue to argue that Congress' greenlight of this dangerous pipeline was unconstitutional, and will exhaust every effort to stop it."