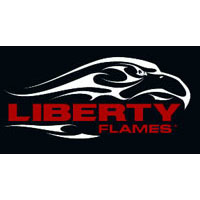 Two Liberty Flames were selected during the final day of the 2016 Major League Baseball (MLB) First Year Player Draft, this afternoon.
The Detroit Tigers selected shortstop Dalton Britt in the 31st round, while pitcher Parker Bean was chosen in the 36th round by the Milwaukee Brewers.
With the selection of the two Flames, Liberty has now had 63 players selected in the MLB Draft during the 43-year history of its program and had at least one player chosen in each draft since 2000.
Britt, a senior in 2016, was picked by Detroit with the 925th selection of the draft. The shortstop becomes the second player in program history to be chosen in the MLB Draft by the Tigers. The team previously selected former Flames pitcher David Stokes in the 2008 draft.
Britt finished his career, having played in a Liberty record 239 career games, all starts. The mark eclipsed the previous record of 235 games played by Trey Wimmer from 2009-14. In addition, Britt completed his career fourth on the program's career hit list with 249.
This past season, the Greenville, N.C., native hit .292 with a 33 runs scored and a career-high 39 RBI. Britt collected a career-high 17 doubles, three triples and three home runs. The team captain also posted a career-high fielding percentage of .956.
During his four years at Liberty, Britt hit .278 with 116 runs scored and 126 RBI. In 2014, he was selected a semifinalist for the Brooks Wallace National Shortstop of Year award and was named to the Big South All-Conference team. The infielder also was voted to the 2013 and 2014 Big South All-Tournament teams.
Bean, a junior in 2016, was selected by the Milwaukee Brewers with the 1071th pick of the draft. Bean becomes the first player in program history to be picked in the MLB Draft by the Brewers. Former Bean teammate and pitcher Shawn Clowers signed a free agent contract with Milwaukee in 2015.
Bean was named the Big South Freshman of Year and selected to the Louisville Slugger Freshman All-America team in 2014. He also was also voted the VaSID Freshmen of the Year and to the Big South All-Conference second team. The right-hander posted a 7-3 record and 2.95 ERA during his freshman year.
Bean made 16 appearances with seven starts in 2016. The right-hander had a 1-1 mark with a 6.11 ERA over 35 1/3 innings. He struck out 42 and walked 45.
During his first three seasons at Liberty, the Hanover, Pa., native has posted an 11-8 record with a 5.17 ERA over 163 2/3 innings. In 46 appearances, 32 which were starts, Bean has struck out 161 and walked 120.