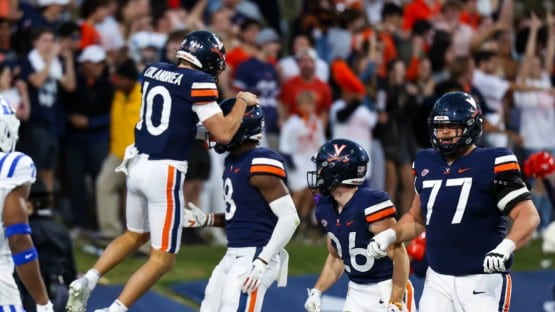 Anthony Colandrea's fifth start of the year was his best. Colandrea completed 21 of 30 passes for 278 yards and three touchdowns, and also ran for 66 yards, in Virginia's 30-27 win over Duke on Saturday.
Colandrea was not fazed by Duke's complex defense and teamed with receiver Malik Washington to lead the Cavaliers to their sixth straight home win over the Blue Devils.
Colandrea, Virginia's true freshman quarterback, whose redshirt was removed two games ago when starter Tony Muskett was injured, played with poise the entire game.
Colandrea was most impressive late in the game on a clock-burning 5:20 scoring drive.
A 14-play, 62-yard drive that ended with Will Bettridge's third field goal, from 30 yards, that gave Virginia a 30-20 lead with 3:43 left.
A margin that Duke was unable to make up, despite a late TD.
"It's a big-time win for coach Elliott and the whole program," said Colandrea.
Virginia has snatched defeat from the jaws of victory several times this season.
Not Saturday.
After Duke connected on a field goal to trim the Virginia lead to seven at 27-20, Colandrea and the offense responded with a long scoring drive, capped with a field goal, that made it a two-score game.
Colandrea knew the offense needed to respond.
"It was huge. We knew we've been in close games, and we just haven't come out on top. We knew when the offense got the ball, it was on us," acknowledged Colandrea.
Three touchdowns and no interceptions were how the game went for Colandrea.
How does he feel he's growing as a quarterback?
"I feel like I'm growing good, growing a lot. It's nice to see the defense on tape, and know I executed in the game," said Colandrea.
Colandrea certainly does not lack confidence.
"I feel like the shape of this program is good. After this game with Virginia Tech, this program is going to shoot up. Everyone in the country will know about us."
Bulletin board material?
Probably not, as Colandrea admitted he didn't know much about the Tech-UVA rivalry, other than it was important.
"I know it's a big game, it's important to the players and fans, it's a chance for us," said Colandrea.
The transfer portal will be critical for Virginia during the offseason, and Colandrea said he hopes to have a positive influence.
"It's critical. I think what we are doing is going to be a positive factor, I hope to have an influence," noted Colandrea.
How about Malik Washington?
"He's like a safety blanket, like (former Green Bay QB) Aaron Rodgers had with Davante Adams. I know he's (Washington) going to come down with it, so it's huge to have him on this team," said Colandrea.
The biggest Colandrea-to-Washington moment came as Virginia gained separation from Duke, as Washington outleaped Duke's defensive back as Colandrea's pass drifted toward the back endzone.
Twisting, stretching his body in the air, Washington turned toward the ball and stretched to make the catch, landing for a score.
"In practice, he'll (Washington) tell me like, if I'm open or I'm not, just throw the ball up, and I'll make the play," Colandria said, "so I have 100 percent confidence in him."
Washington said it was a bit more than that. "With Colandrea, we know what he can do with the ball, and if he puts it there, I'm going to come down with it every time."
Duke won't dispute that.