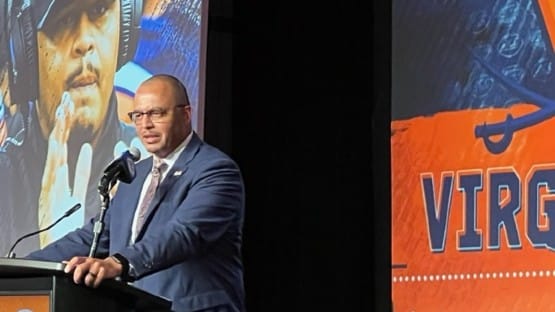 UVA football coach Tony Elliott thinks you'll see a "significant amount of progress" from his offense in 2023, because the guys running it have a year in the system.
Um, no.
Not close.
But first, being fair to Elliott, here's the head coach, selling his thinking to reporters at the 2023 ACC Football Kickoff.
"I think in Year 2, now what you have is when we went to spring practice, there wasn't as much of the installation of the program, the core values, the practice habits that were having to be corrected in spring practice, one, right? That you can focus more on the details of the system to get down to building the fundamentals that you need. So, I think as we transition past that into Year 2, there's a lot more familiarity with what we're doing," Elliott said.
It's a nice idea, but …
His starting quarterback, Tony Muskett, is a mid-year transfer from Monmouth, so, new guy.
The top receiver, you have to assume, Northwestern transfer Malik Washington, is a mid-year transfer.
New guy.
The top running back, Kobe Pace, transferred in from Clemson.
New guy.
Three of the projected starting offensive linemen, Brian Stevens, Jimmy Christ and Ugonna Nnanna, are all tranfers.
Which is to say, new guys.
That would be six of your starting 11 on offense as new guys.
Half the starting guys don't have what you'd call "familiarity" with what Elliott and his obviously overmatched offensive coordinator, Des Kitchings, would like you to believe.
Anymore, anyway, than the skill guys that Elliott and Kitchings had access to this time last year – guys like Brennan Armstrong, Dontayvion Wicks, Keytaon Thompson, Billy Kemp, who keyed the offense that ranked third nationally in total offense in 2021, and in the Elliott/Kitchings system could only manage to rank, gulp, 103rd.
Here's Elliott's excuse, er, sales pitch, on why it should be different this year.
"In fairness to the guys that were there last year and transitioned, they had a lot of success from a Virginia standpoint. In their minds, why are we changing? Unfortunately, just a transition in coaching, you're going to change. There's going to be a philosophical change," Elliott said.
"There was a lot of things. You've got pretty much a brand new offensive line. You've got all kind of different dynamics that contributed to it. Not making excuses, but just kind of setting the context of the situation."
Um, that's making excuses.
Elliott effectively ran off the offensive line from 2021 with his decision to not even interview QBs coach Jason Beck for the offensive coordinator job.
The move by Elliott to hire Kitchings, a guy who'd had two one-year stints as a D1 OC, both of which ended with him not being retained for a Year 2, presaged what was to come with the 2022 UVA offense.
In fairness to Kitchings and Elliott, this is what AD Carla Williams hired them to do – tear down what Bronco Mendenhall had left as a foundation, to start over.
Not a wise move there from the AD.
But as far as Elliott is concerned, no, let's not go on about how it's Year 2 in terms of installation of the offense, with all the new guys that will be running it.
"I think you'll see an improvement, a significant improvement, just with the continuity of what we're doing, and guys understanding and now that they understand they can play fast. They can play physical. They can play free, which gives them the ability to execute at a higher level," Elliott said.
O … K.
"I think that the ability is there, and now that we've had a spring, and we'll have 25 practices in the fall, I think you'll start to see a little bit more continuity, and then also with them working with the quarterbacks in the offseason, a little bit more chemistry, which will give a little bit more rhythm."
It's all new guys, Coach.
"A lot of that responsibility is on myself and my staff, and hopefully going forward, we won't have those issues, but I think the biggest thing is we got more time, a little bit more experience in the system. Guys are thinking less. They're able to go out there and play free."
Again, it's new guys, Coach.