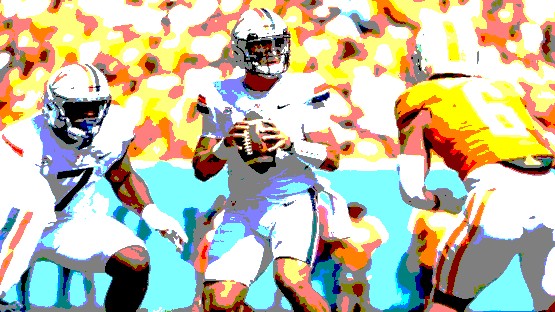 Tony Elliott continues to insist that Tony Muskett is "getting better," and is listing the FCS transfer with one start and three quarters and change of live-game reps at UVA as QB1 on the depth chart.
It seems that maybe only Elliott is unaware that true freshman Anthony Colandrea, who is ranked sixth in the ACC in pass efficiency, one spot behind preseason ACC Player of the Year favorite Drake Maye, is his starter.
"My philosophy is, you don't lose your starting job because of injury," Elliott told reporters at his weekly press conference on Tuesday. "Each week we go into it with Tony being the guy until we get to the game, and we assess what the situation is. I think he's much closer. I anticipate that Tony will be ready to play this week, and that's how we'll roll."
In case you missed it, Elliott has been anticipating that Muskett, who passed for 94 yards in Virginia's season-opening 49-13 loss to Tennessee, and was injured in the fourth quarter of that loss on a sack, will be ready to play pretty much every week since.
Colandrea has gotten the starts each of the past three weeks in Muskett's place, and has put up nice counting numbers – averaging 303.8 yards passing per start, with a 61.8 percent completion rate, five TDs, six INTs.
The 35 points that the 'Hoos scored in their Week 2 loss to JMU was the most the UVA offense has scored since Elliott has been the head coach.
So there's that, and the nice comeback drive that Colandrea engineered in last week's 24-21 loss to NC State that tied the game with a TD and improbable 17-yard two-point conversion pass with 36 seconds left.
Elliott, with his policy, about not having a guy lose a starting position due to injury, talked about "trying to figure out how to win a ballgame and what gives us the best chance and best opportunity."
"I think in fairness to Tony, right, he's played 45 snaps and has been out, so I think you got to give them, he earned the job, he won the job coming out of camp, and he needs to be evaluated in the game as well," Elliott said.
Actually, Elliott himself didn't make the final call on who his QB1 would be until the final week of camp, and conceded in an interview with reporters earlier in that final week of camp that Colandrea was pushing Muskett for the job, despite all the advantages that the three-year starter at Monmouth had going in.
All Colandrea has done is average 300-plus yards per game and lead the UVA offense to 23.3 points per game.
Going with the kid would seem to give Virginia the "best chance and best opportunity."
Anyway.
"Right now, he's our starting quarterback," Elliott said, referring to Muskett as the "he" there. "I think we have a good sample size of what Colandrea can do. Both of them have to be ready. I think that they have a really good relationship, and I see them hanging out together. They push each other in practice. There is healthy competition."
For me, it's whatever gives us the best chance. I won't know that until we get a good sample size on Tony in the game.