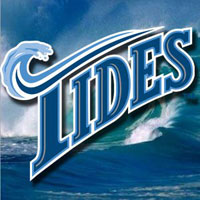 Rick VandenHurk gave up two home runs Tuesday night at Harbor Park, and the Norfolk Tides fell 7-1 to the Toledo Mud Hens in front of 5,950 fans.
VandenHurk (5-12, 4.88) pitched well for much of the night before running into trouble in the 7th inning. The pitcher from the Netherlands, who went into the night having allowed nine 7th inning runs in 2.0 innings this year, continued to have bad fortunes in the frame. He gave up a leadoff single to Danny Worth and followed that by hitting Ben Guez with a pitch. Max St. Pierre made VandenHurk pay for the mistake one out later with a three-run homer to left field that gave the visitors a 5-1 lead and ended his night.
The Mud Hens added two more runs in the frame off reliever Will Startup. Making his first appearance with the Tides after being transferred from Delmarva earlier in the day, Startup walked the first two batters he faced and gave up a single to Timo Perez to load the bases. Jeff Salazar then hit a two-out, two-strike single to center field that plated a pair and closed out the scoring.
Fu-Te Ni (5-0, 3.20) wasn't overpowering during his 7.0 innings on the mound but kept the Tides at bay by making pitches when he needed to. He allowed the Tides leadoff batter to reach base in each of the first four innings but came away surrendering just one run off a Ryan Adams homer in the 1st inning. He allowed eight hits on the night and struck out four batters.
Ryan Strieby put the Mud Hens on the board first with a two-out, two-run homer in the first inning off VandenHurk. The Tides starter then retired 13 of the next 14 batters he faced.
The two clubs will resume their four-game series Wednesday night at 7:15. RH Chris Tillman (3-2, 4.12) will take the ball for the Tides. LH Duane Below (9-4, 3.13) is scheduled to take the ball for Toledo.