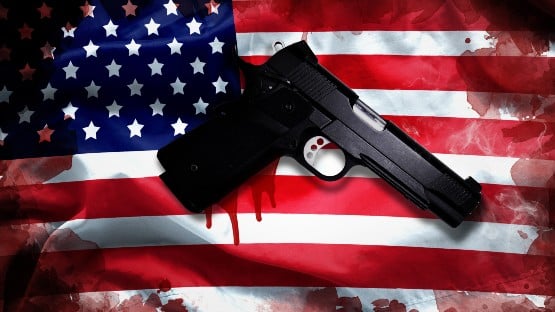 Done with violence? So are we.
October 2nd marks Mahatma Gandhi's birthday and the International Day of Nonviolence. Known for achieving India's independence from British colonial rule, Mohandas K. Gandhi brought the philosophy and practice of nonviolence to global recognition.
Close to 100 years later, nonviolence is an idea whose time has surely come.
There have been 25,000 gun deaths in the United States in 2023, over half of those suicides. There have been 131 mass shootings (increasing from 113 in 2022). Almost 39,000 people experienced domestic violence in 2022. Already, 638 people have been shot by police this year, with a disproportionate impact on African Americans. Half a million people have died in the war in Ukraine alone with countless more dying in other conflicts. More than 100 million people have been forcibly displaced by war, armed conflicts, threats to their lives, and disasters. The United States has enough nuclear weapons to destroy the world 10 times over, thousands of which are ready to launch at a moment's notice.
Amidst these appalling statistics, Campaign Nonviolence – a long-term movement to build a culture of nonviolence – isn't idealistic so much as pragmatic. From September 21 to Oct 2, the effort has organized an impressive 5,000+ actions and events during the Campaign Nonviolence Action Days to challenge the culture of violence with the power of active nonviolence.
Campaign Nonviolence was launched in 2014 with 230 actions. Since then, it has grown each year, partnering with dozens of organizations and nonprofits. This year's 5,050 actions marks the movement's biggest year yet. Rallying under the broad mission to "build a culture of peace and active nonviolence, free from war, poverty, racism, and environmental destruction," hundreds of groups across the United States and in 20 countries held marches, rallies, teach-ins, protests, informational events, and much more.
The effort connects the dots between direct violence (such as gun violence, domestic violence, bullying, war) and systemic violence (racism, discrimination, xenophobia, inequality, low wages, poverty). Beyond opposing the problems, Campaign Nonviolence also lifts up the many viable solutions that exist.
During Action Days 2023, for example, an entire high school in Detroit trained in violence de-escalation skills, youth marched against firearms in Philadelphia, a low-income neighborhood in Honolulu formed a Zone of Peace and Nonviolence, hundreds of classrooms learned how to prevent the social isolation that can lead to school shootings. In Oregon, Wisconsin, and Vermont, people also trained in how to use nonviolent action to make social change. A global virtual conference explored the ways unarmed peacekeeping and nonviolent resistance have stopped war and militarism in Honduras, Ecuador, Liberia, and beyond.
Together, the 5,000+ actions during Campaign Nonviolence Action Days weave a tapestry of skills, tools, practices, and solutions that show that another world is possible. From restorative justice to renewable power to peace teams, nonviolent alternatives to violent and destructive systems exist. The people working for these solutions are teachers, students, Rotarians, social workers, librarians, business owners, city staff and officials, faith groups, neighbors, and more.
These Action Days stretch from the International Day of Peace on September 21st to the International Day of Nonviolence (and Mahatma Gandhi's birthday) on October 2nd. Between these 12 days, this extraordinary effort reveals the deeply held longing shared by so many of us for a culture of peace and nonviolence.
It's a compelling vision. It's a practical movement. It's high time for this change.
Rivera Sun, syndicated by PeaceVoice, has written numerous books, including The Dandelion Insurrection and the award-winning Ari Ara series. She is the editor of Nonviolence News, Program Coordinator for Campaign Nonviolence, and a nationwide trainer in strategy for nonviolent campaigns.