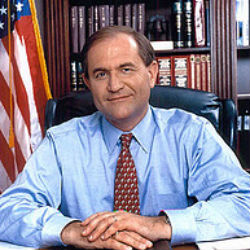 Vermin Supreme won't have Jim Gilmore to kick around anymore. The former Virginia governor announced on Friday that he is suspending his bid for the Republican Party presidential nomination.
Yes, he was still running.
Gilmore received 12 – 12! – votes in the Iowa caucuses, then bounced back in New Hampshire, where he got 125 votes, which is 125 more than any of the rest of us got, sure.
But Vermin Supreme, not his real name, obvs, got 243 votes in the New Hampshire Democratic primary.
It's not hard to see why Supreme did so well: among his campaign promises is giving a free pony to every American.
Hard to beat a guy offering up free ponies.
Gilmore did outperform Deez Nuts, who despite early polling success failed to get a single vote in New Hampshire.
So he does have that going for him.