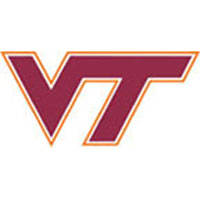 An apparent go-ahead touchdown catch by Danny Coale was overturned on replay. That's when things started going downhill for Virginia Tech.
Third-string kicker Justin Myer missed on a 37-yard field-goal attempt after making his first four tries, and Michigan's Brendan Gibbons nailed a 37-yarder moments later to lift the Wolverines to a 23-20 overtime win in the Sugar Bowl.
The loss was the fifth in six BCS appearances for Virginia Tech (11-3), and the second straight loss for the Hokies after an 11-1 regular season.
Tech had to rally to get as close as it did. Trailing 17-9 entering the fourth quarter, the Hokies tied it up when Logan Thomas scored from a yard out to cap a 16-play, 61-yard drive and then converted a two-point pass to Marcus Davis.
A special-teams blunder – a failed fake punt near midfield – put Michigan (11-2) back in the driver's seat. Gibbons split the uprights from 39 yards out to give the Wolverines a 20-17 lead with 4:00 to go.
Myer tied it up at 20 with two seconds left with a 25-yard field goal following an 11-play, 83-yard drive that stalled inside the Michigan 10.
Virginia Tech got the ball first in the overtime period, and appeared to take the lead on a dramatic catch in the left corner of the end zone by Coale on a third-and-five play from the Michigan 20. The play was ruled a touchdown on the field, but was reversed after a lengthy review after it was ruled that Coale had not maintained possession of the ball throughout the catch.
Myer missed the field-goal attempt on the next play, and Michigan played it conservatively on its series, running three times to set up the game-winner by Gibbons.
Tech was undone largely by special-teams miscues – including the missed field goal in overtime, the failed fake punt, a roughing-the-kicker penalty that extended a second-quarter Michigan drive that eventually resulted in a Denard Robinson-to-Junior Hemingway touchdown pass, and a fumbled kickoff that led to a Wolverine field goal.
The Hokie defense held the vaunted Michigan offense largely in check. Quarterback Denard Robinson, who came into the game having thrown for 2,056 yards and run for 1,163 yards in 2011, was held to 13 yards on 13 carries on the ground and 117 yards on 9-of-21 passing.
Michigan did a fair job limiting the Virginia Tech offense, for its part, including bottling up ACC Player of the Year David Wilson, who gained 82 yards on 24 carries. Quarterback Logan Thomas was 19-of-28 passing for 214 yards and also gained 53 yards on the ground on 16 carries.