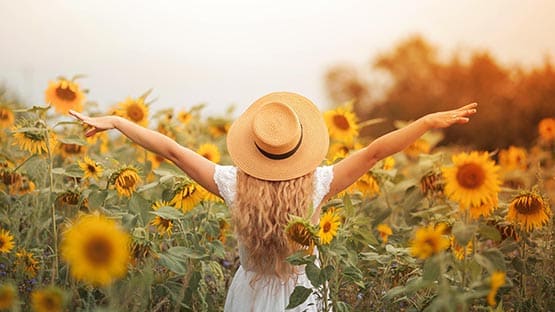 Many farmers throughout Virginia are diversifying their operations by offering flowers and flower festivals at their farms. Sunflowers, in particular, are becoming a staple at some farms in the summer.
In Botetourt County, for example, visitors to Beaver Dam Farm are captivated by the 600,000 yellow blooms on 20 acres.
Beaver Dam hosts the largest sunflower festival and vendor show on the East Coast, scheduled for Sept. 8-17 this year. Up to 20,000 visitors from more than 35 states orbit the vast fields every summer and fall.
The farm and festival are overseen by Candace Monaghan, a fourth-generation farmer with a dairy background. As the dairy industry started to decline in Virginia, Monaghan's family switched to raising beef cattle. On a whim, they planted black oil sunflowers in an empty field in 2015.
"My father, Preston, always liked sunflowers, and wanted to see if they grew well," she said. "They did grow, and a few people stopped to take photos and ask if they could pick a few to take home."
Monaghan then proposed establishing an annual sunflower festival.
The event eventually evolved into a 10-day event with more than 120 vendors selling handcrafted goods. The festival also features wagon rides, a farm animal petting area, live music and catered sunset dinners.
"One of my favorite parts is watching everyone's faces when they enter the gates and see all 600,000 sunflowers for the first time," Monaghan said.
Beaver Dam Farm isn't alone in trying to bring new people to their farm with sunflowers.
Chesterfield Berry Farm's name doesn't scream sunflowers, but if you are visiting their farm during the summer months, you are greeted by 15-20 acres of sunflowers.
"We were looking for something to come in after strawberry season," said Aaron Goode, the farm's owner.
The farm is known for its U-pick strawberries during spring and a pumpkin patch in the fall, so Goode diversified into sunflowers to expand summer attractions alongside his seasonal sweet corn.
Visitors may browse vast rows of varying heights and colors, from garnet-red Velvet Queen to funky, almost fuzzy Goldy Honey Bears. Bicolored sunflowers, reminiscent of a sunset with deep orange petals tipped in gold, add to the striking mixture of flowers.
"We plant about 15 different varieties," Goode said. "We have branching varieties with multiple blooms and then single stems with one big bloom."
The field is also picture-perfect for Instagram influencers and families.
Goode makes two plantings – one in early spring so flowers are ready mid-July, and another during summer to coincide with pumpkin season.
The sunflowers thrive in Virginia's heat and the farm's well-draining sandy loam soil, he said.
While the fields were planted with customers in mind, they aren't the only ones attracted to the yellow blooms.
"The honeybees love them," Goode said. "They get something out of them too. There are a lot of bees in the fields, but they don't bother you."