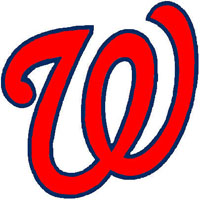 The news today regarding Stephen Strasburg, apparently headed toward Tommy John surgery, seems to validate the overcautious approach taken by the Washington Nationals to Strasburg's rookie season. Too many examples abound of young pitchers flaming out in recent years to not think that way.
Right? More on that later.
We already had Strasburg on his way to the Hall of Fame before he was done with his first start, a 14-strikeout domination of the Pittsburgh Pirates back in June. Much as we had Kerry Wood in the Hall when he struck out 20 in a one-hitter at age 20. He was the next Nolan Ryan, only better, before his arm blew out, and he's struggled to regain his early-career magic since.
Others who were brilliant and then flamed out quickly: Dwight Gooden, Steve Avery, Mark Prior, Mark Fidrych (remember him, The Bird?).
Back to the present-day: I was watching Saturday night when Strasburg signaled to the dugout that he was hurting after throwing a fifth-inning, 1-1, one-out changeup to Philadelphia outfielder Domonic Brown, and my initial instinct was that I'd seen Strasburg throw his last pitch in 2010.
I thought that while also assuming that the injury would turn out not to be all that serious, but given that Strasburg was just back from a stint on the disabled list after experiencing tightness in his shoulder while warming up before a scheduled start on July 27, it seemed clear to me that the Nats would exercise almost undue caution.
Turns out the caution was due, with the likelihood of Tommy John surgery meaning Strasburg's next pitch in the big leagues isn't forthcoming until April 2012.
It's not the end of the world as we know as far as Strasburg is concerned. As Washington Post sportswriter Adam Kilgore points out, Tommy John surgery is so commonplace today that 10 pitchers in this year's All-Star Game had had the surgery, including 2009 National League Cy Young winner Chris Carpenter. Tommy John himself came back from the surgery early in his career and won 288 games.
As to the strategy of limiting Strasburg's innings this year – well, we can't say that it worked out all that well for all involved, now, can we?
We'll never know, of course, what might have happened had the Nats not treated Strasburg's right arm like a Van Gogh. What if Ryan, now the president of the Texas Rangers, had Strasburg down in Arlington and ran him through the rigors of the regimen that Ryan himself had followed en route to a career throwing fastballs in the upper 90s into his mid-40s? What if former Atlanta Braves pitching coach Leo Mazzone had had Strasburg going through the heavy workload that seemed to keep future Hall of Famers Greg Maddux, Tom Glavine and John Smoltz in good shape for the dozen or so years that they were all together?
Chances are Strasburg would have still broken down; Strasburg admitted to having felt similar pain in his forearm and elbow as he experienced last week in Philadelphia on a couple of occasions in college and said he was able to pitch through those episodes.
The difference would come in our approach to what happened. Had Strasburg seemed to have been overworked, we'd blame the idiots who overworked him for what happened.
What if it's actually the case that the idiots actually underworked him into what happened?
Again, we'll never know.
 
 
Column by Chris Graham. Chris can be reached at [email protected].