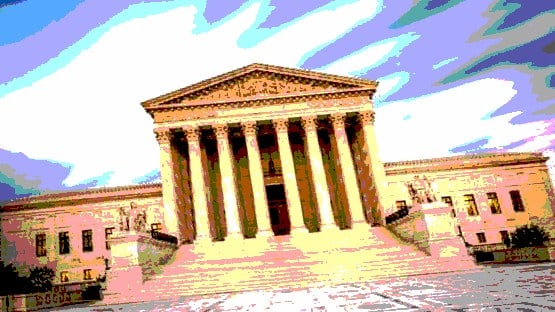 James Rudisill, a decorated veteran of the wars in Afghanistan and Iraq, now an FBI agent who investigates ISIS and White supremacists, is being done wrong by the VA.
Rudisill, a Virginia resident, was accepted into the Yale Divinity School in 2014, but the VA said he was only eligible for 36 months of educational benefits from his service in the military, and not the 48 months that he should have been.
The decision effectively denied Rudisill, 43, the opportunity to attend divinity school.
He has been fighting the decision through the federal courts since 2015. The case is now at the U.S. Supreme Court.
A bipartisan coalition of 40 state AGs is urging the Supremes to rule in favor of Rudisill, and the more than 1.7 million service veterans who deserve access to the expanded educational benefits from the Post-9/11 GI Bill, which was signed into law in 2009.
The Post-9/11 GI Bill expands on the Montgomery GI Bill, which provides veterans with a flat $2,200 per month toward their educational expenses, and runs out after 36 months.
The 2009 law amounts to a full four-year scholarship, with stipends for living expenses, books and fees.
Rudisill originally applied for and received benefits under the Montgomery GI Bill that he used to complete his undergraduate degree.
He returned to the U.S. Army as a commissioned officer after completing his degree.
His time in the service has been decorated – he was wounded in a suicide attack in Afghanistan, and he was awarded a Bronze Star after helping save members of his platoon by turning back a Taliban attack while directing medical evacuations under fire.
In 2014, Rudisill applied for benefits under the Post-9/11 GI Bill to pay for divinity school.
That's where he hit the VA roadblock.
"As a country, we will always be indebted to our veterans," said Virginia Attorney General Jason Miyares, a Republican who has been leading the state AGs coalition pushing the Supreme Court to reverse a lower-court ruling that upheld the VA decision to deny Rudisill his educational benefits.
"The benefits veterans' earn from their service is the least we can do to try and repay their sacrifice," Miyares said. "That's why it's crucial that the Supreme Court recognize the Federal Circuit's mistake when it stripped James Rudisill of his Post-9/11 GI education benefits because he wanted to find a new way to serve his country.
"Republican and Democratic attorneys general are coming together because the ruling isn't just wrong – it unfairly harms every veteran's reentry into civilian life," Miyares said.
Fourth District Congresswoman Jennifer McClellan and Sen. Tim Kaine, both Democrats, meanwhile, are leading a bipartisan, bicameral group of lawmakers to submit an amicus brief to the Supreme Court in support of U.S. Army veteran and FBI Special Agent James Rudisill.
"Our servicemembers stand up for us, and we owe it to them to administer the benefits they are promised in return. James Rudisill served his country with honor and distinction," McClellan and Kaine said in a joint statement. "It's beyond frustrating that he was not allotted the support he needed to achieve his goal of completing divinity school in time to rejoin the Army as a minister. The Department of Veterans Affairs' mistake not only impacted Rudisill, but our greater Army community. While we can't turn back the clock, we urge the Supreme Court to deliver justice and provide other veterans with the opportunities intended by Congress."