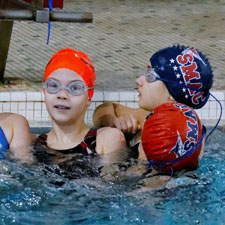 The Shenandoah Marlins Aquatic Club, which practices at the Waynesboro Y, hosted the annual SMAC Fall Invitational Nov 19 and 20 at the Waynesboro YMCA. This meet was open to all, but the focus of the meet was for the younger swimmers from Charlottesville to Roanoke.
The following SMAC swimmers participated in the meet:  Alexis Brooks (14), Peyton Brooks (11), Chris Carmagnola (11), Lindsey Carter (15), Mackenzie Carter (12), Maya Chatterson (8), Nate Chatterson (6), Hailey Cook (10), Megan Cross (6), Violet Cross (6), Gabby D'Alessandro (4), Rece D'Alessandro (8), Alice Elkins (8), Braelin Fauber (10), McKinna Fitgerald (12), Miles Fitzgerald (8), Margo Flanders (11), Grace Hardiman (8), Maddie Harris (8), Kristen Holman (11), Norah Hunt (13), Alexander Flowers (13), Caleb Johnson (11), Ethan Johnson (9), Sarah Loomis (11), Hunter McMillion (14), Justin Merritt (14), Jordan Miller (13), Cody Niles (16), Ashley Painter (8), Ella Pickering (10), Abby Prucha (6), Ben Prucha (8), John Prucha (7), Alexander Randolph (14), Clara Riggan (9),  Maggie Riggan (12), Brazil Rule (13), Charlotte Rumsey (11), Morgan Ryalls (10), Rebekah Ryalls (13), Eli Scarbrough (7), Savannah Scarbrough (13), Jackson Sherman (7), Hanna Shifflett (10), Tate Snyder (10), Madison Tegen (14), Logan Terrell (13), Elizabeth Terrell (13), Mattie Tindall (10), Sam Tindall (7), Ben Vincent (8),  Nick Wade (14), Kristen Wagner (9), Emma Woodworth (9) Ben Young (8), Libby Young (11) and Luke Young (9).
This was the largest contingent of SMAC swimmers (59) in many years to participate in our Fall Invite.  It is great to see this many young swimmers competing in a sanctioned USA Swimming event, many for the first time, and all showing remarkable improvement. The highlight of the meet was when the girls 10-and-under relay team won the 200 medley relay beating the teams from Charlottesville and Carter Center Aquatics from Roanoke. The girls on the relay team were Maya Chatterson, Ella Pickering, Braelin Fauber, and Kristen Wagner. The individual highlight of the meet was 8-year-old Chatterson. She won five events and came in second in two other events and set seven new SMAC records in the following events (50 free, 100 free, 200 free, 25 fly, 50 fly, 50 back and 100 IM). Miles Fitzgerald Kristen Wagner also set new SMAC records in the 50 fly and 1000 free respectively.
SMAC won many races throughout the weekend and placed in the top three in numerous events. Congratulations to the following swimmers who had first-place finishes:
L. Carter (15-16 girls) mile, Nate Chatterson (6 and under boys) 25 back and 100 free, Hunt (13-14 girls) mile, C. Johnson (11-12 boys) mile, 200 fly and 400 IM, Merritt (13-14 boys) 50 free, 100 free, 200 free and 100 back, Niles (15-16 boys) 500 free, mile and 100 breast, McMillion (13-14 boys) mile, Randolph (13-14 boys) 1000 free and 100 breast, Maggie Riggan (11-12 girls) mile, Rumsey (11-12 girls) 400 IM, Scarbrough (13-14 girls) 100 breast and Snyder (10 and under boys) mile.
SMAC swimmers will be competing at meets in Christiansburg and Greensboro the next two weekends.  Excellent results are expected as the swimmers have been practicing diligently leading up to the highly competitive meets before Christmas.
For more information regarding SMAC swimming contact Coach Norm Wright, Director of Competitive Swimming at the Waynesboro Y at 540.942.5107 or email him at [email protected].
For more information about SMAC, please visit their website: www.smacswimming.org.