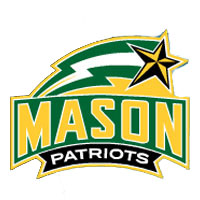 The George Mason men's basketball team shot just 25.8 percent from the field Saturday night, dropping a 62-53 decision at Duquesne. The Patriots came back from a 14-point deficit, cutting it to five points, but couldn't hold on late in the contest with the Dukes finishing 6-7 from the free throw line.
The Patriots could not overcome a first half shooting effort of just 13.8 percent despite shooting 36.4 percent in the second half. Isaiah Jackson led the Patriots offensively with 12 points while Jalen Jenkins added 11. Shevon Thompson, who was limited to five points, led Mason with 10 rebounds. Duquesne won the battle on the glass, 45-41, behind 16 boards from Dominique McKoy. Three Dukes reached double-figures for Duquesne paced by Derrick Colter with 16 points. Micah Mason and Jordan Stevens each added 10 points. For the game, Duquesne shot 40.0 percent and outscored Mason in the paint, 32-16.
The teams stood tied at the first media break after just hitting one trey each. Mason gained a three-point lead, but Duquesne battled back and carried a 22-15 lead into halftime.
Duquesne quickly pulled away with a double-digit lead in the second half and carried a comfortable lead until Mason used an 11-4 run to cut it to 46-41 with 5:12 left to play. Mason would cut it to five points again a minute later, but that would be the closest the Patriots came as the Dukes pushed back out to a double-digit lead and secured the win.
Mason was held to its lowest offensive first half of 15 points since December 4, 2004 when the Patriots scored 15 points in the first half against No. 12 Maryland in the BB&T Classic.
The Patriots return to action hosting No. 14 VCU on Wednesday in the Patriot Center at 7 p.m. The game will be televised on CBS Sports Network.