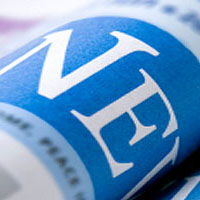 Today, Secretary of Agriculture and Forestry Todd Haymore unveiled the Southern Virginia Wine Region road signs, part of a continuing Virginia wine region sign program aimed at attracting more visitors to Virginia wineries.  The unveiling was the first event of Governor Terry McAuliffe's two-day cabinet visit to Southern Virginia.  The signs announce to travelers on selected primary and secondary roads that they have entered a particular Virginia American Viticultural Area (AVA) or wine region.  Now in its second phase, the program has located almost 40 signs in thirteen Virginia AVAs and wine regions.
The Southern Virginia Wine Region sign was unveiled at The Homeplace Vineyard in Chatham.  Incorporated in 2004, The Homeplace Vineyard is owned and operated by the Williams Family.  Held in the same family over the last 4 generations, The Homplace was traditionally a leaf tobacco farm, planting its first grapes in 2005.  The family now cultivates 5,600 vines on almost 10 acres, raising Traminette, Cabernet Sauvignon, Chambourcin and Viognier, the official wine grape of the Commonwealth.
Running across the middle of the Virginia's border with North Carolina, this mostly rural and rolling landscape of farms and woodland takes visitors into the south-side Virginia version of small-town America. Southern Virginia has a warm to temperate climate with good soil for winemaking in selected areas where the topography is ideal.  Cabernet Franc, Cabernet Sauvignon, Chardonnay, Merlot, Syrah, Pinot Grigio and Vidal Blanc are the most produced grape varietals in this region of the Commonwealth.
The wine region sign program was funded by a grant from the federal Transportation Enhancement Program and matching funds from the Commonwealth Transportation Board (CTB).  The Office of the Secretary of Agriculture and Forestry worked closely with Virginia Department of Transportation (VDOT) to design the signs and select locations that fit within the rules of the program and were best situated to promote the wine regions.  The Virginia Wine Board will assist with any maintenance should a sign be damaged or destroyed.
"I want to thank Governor McAuliffe, Transportation Secretary Aubrey Layne, CTB, VDOT, and the Virginia Wine Board for their assistance in making these wine region signs a reality," said Secretary Haymore.  "The continued growth of Virginia's wine industry, one of the fastest growing sectors of Virginia agriculture, is a priority for Governor McAuliffe and cross secretariat cooperation is key to the Governor's overall economic development and jobs creation agenda.  This partnership, along with our on-going work with the Virginia Tourism Corporation, will help spur more growth and opportunities at wineries and their suppliers in rural areas throughout Virginia."
"The Transportation Secretariat partners with the Secretariat of Agriculture and Forestry on everything from road signage, to weight restrictions, to the safe use of farm vehicles on Virginia roads," said Virginia Secretary of Transportation Aubrey Layne. "Our secondary roads are vital to those who work the land. Continuing to maintain the positive partnership between our two secretariats is a huge benefit to the farmer as well as the consumer."
Raising the profile of Virginia wines and wine tourism, along with the production of top quality wines, are key components in the recent strong growth of the Virginia wine industry.  Continuing to promote Virginia wines at the Virginia Executive Mansion and throughout Virginia, on other domestic business recruitment visits, and on upcoming international trade and marketing missions, Governor McAuliffe is making the continued growth and success of the Virginia wine industry a priority in his administration.
Virginia is home to more than 250 wineries and is fifth in the nation for wine grape production.  A 2012 economic impact study shows that Virginia's wine industry contributes almost three-quarters of a billion dollars – or $747 million – annually to Virginia's economy.  Virginia wineries and vineyards support 4,800 jobs that provide $156 million total in wages.
Wine travel in Virginia has gained many recent accolades, including being named one of the ten best wine travel destinations in the world for 2012 by Wine Enthusiast Magazine.  In 2010, approximately 1.6 million people visited Virginia wineries.  Tourism is an instant revenue generator for Virginia.  In 2010, tourism generated $19 billion in revenue, supported 204,000 jobs and provided $1.2 billion in state and local taxes.