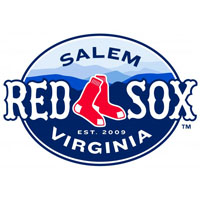 The Salem Red Sox struck for four runs in the bottom of the second and never trailed as they held on for a 5-4 win over the Myrtle Beach Pelicans Wednesday night at LewisGale Field.
In what was a scoreless game, Jen-Ho Tseng struck out Kevin Heller to begin the second. The next seven men went on to reach for the Sox, with Forrestt Allday singling and Yoilan Cerse crushing a two-run homer deep to left. Jordan Betts was then hit by a pitch before Danny Bethea singled. Deiner Lopez followed with a single that scored Betts then Mauricio Dubon singled to load the bases. Wendell Rijo followed by chopping an infield single to the left side, scoring Bethea from third for a 4-0 lead. Tseng then got the next two batters, finishing with a second strikeout of Heller in the tenth at bat of the inning.
Myrtle Beach responded with a run in the fourth inning, as Ben Carhart led off with a single. He took second on a wild pitch, moved to third on a groundout and then scored when Trey Martin bounced out to short, cutting Salem's lead to 4-1.
The Pelicans continued to chip away in the fifth as Chesny Young walked and scored one batter later when Pin-Chieh Chen laced a double to right-center. Jason Vosler then smacked a double of his own, scoring Chen to make the score 4-3 Salem.
The Red Sox earned an insurance run in the sixth inning as Betts singled up the middle to begin the frame. He then stole second and took third on a Lopez single. Dubon later hit a weak grounder to first that Carhart fielded and threw home, tagging out Betts as Lopez moved to second in the process. A wild pitch advanced Lopez to third and Dubon to second for Wendell Rijo, who yanked a single to left. Lopez scored and Dubon tried to follow but Chen fielded the ball and threw a strike home that beat Dubon to the plate for an out that ended the inning with the Sox leading 5-3.
It proved to be a big run as Myrtle's seventh began with Victor Caratini doubling and taking third on a wild pitch. Carhart then sent a deep fly to center, allowing Caratini to tag and head home, making the score 5-4 Red Sox.
Salem would hold on to the lead though as Chandler Shepherd worked two shutout innings for his fourth save. Kevin McAvoy (8-9) picked up the win by battling through five innings with three runs allowed on three walks and six hits. Tseng (5-7) was the losing pitcher thanks to five runs on 11 hits over six innings with five strikeouts.
Lopez led the way for the Sox with a 3-for-3 effort that included a run and an RBI. Dubon was 2-for-4 and Rijo also went 2-for-4 with two RBI.
The series concludes Thursday night at 7:05 with Daniel McGrath (1-4, 4.20) facing Daury Torrez (8-6, 4.03). It's College Football Rivalry Night as well as Thirsty Thursday featuring beverage specials at the ballpark. Fans unable to attend can listen to the game on 1240 AM ESPN Roanoke, online at salemsox.com or via the TuneIn Radio app.
– Source: Salem Red Sox