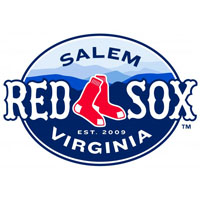 The Salem Red Sox fell on the wrong side of a pitcher's duel on Monday night at LewisGale Field, dropping a 3-1 contest at the hands of the Carolina Mudcats.
Kevin McAvoy was the hard luck loser for Salem. McAvoy (2-2) lasted six innings and struck out six batters equaling his season best. He did not issue a walk for the first time this season.
Carolina struck first in the top of the fourth inning. Dustin Peterson led off the frame with a single, stole second and advanced to third on a throwing error from catcher Carlos Coste. Jacob Schrader then knocked him in with a single to give Carolina a 1-0 lead.
The Sox got their lone run in the home half of the fifth. With two outs, Jose Vinicio slapped a ground ball single up the middle and was advanced to third by a Tzu-Wei Lin single one batter later. Mauricio Cabrera attempted to pick off Lin at first and slung the ball past Joey Meneses in to right field, allowing Vinicio to score easily from third and tie the game at one.
The Mudcats regained the lead an inning later. Peterson led off with a single and advanced to second on a balk from McAvoy and was moved to third when Carlos Franco grounded out to first. With one out, Sean Godfrey laced a line drive into left-center that Kevin Heller made a tremendous diving catch on. Peterson was able to tag up at third and score on what became a sacrifice fly to give the Mudcats a 2-1 lead.
Carolina added an insurance run in the top of the ninth when Godfrey was knocked in by a sacrifice fly off the bat of Joey Meneses.
Peterson finished 2-for-4 with two runs scored and Cabrera (2-0) picked up with win with three innings of one-run baseball out of the bullpen, striking out four. Blair Walters started the game for the Mudcats and did not factor in the decision, allowing just three hits over four scoreless innings.
Kevin Heller was the only Salem batter with more than one hit, finishing 2-for-4 with a pair of singles.
The Red Sox dropped to an even .500 at 16-16 and the Mudcats improved to 19-12. In the final meeting of the first half between Salem and Carolina the season series was tied at eight games apiece. The Red Sox are 8-8 against the Mudcats and 8-8 against the rest of the Carolina League.
Salem continues the homestand with the first of a three-game series with the Winston-Salem Dash Tuesday night at LewisGale Field. First pitch is scheduled for 7:05 p.m. Daniel McGrath (1-1, 1.88) is scheduled to oppose Matt Heidenreich (5-0, 1.21). Fans unable to attend can listen to the game on 1240 AM ESPN Roanoke, online at salemsox.com or via the TuneIn Radio app.