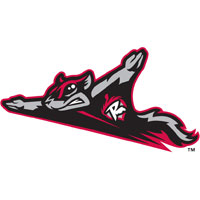 Jackson Williams knocked in four runs for the Richmond Flying Squirrels (27-27) as they defeated the New Hampshire Fisher Cats, 7-3, on Saturday night at Northeast Delta Dental Stadium.  With the win, the Squirrels took the series and rose above .500 for the first time since they were 3-2 on April 13th.  Richmond has won eight of their last 10 series, 8-1-1 in series in that stretch.
The Squirrels once again got off to a quick start, using back-to-back game-opening hits to grab a 1-0 lead.  Kelby Tomlinson led off with an infield-single off of righty Joel Pineiro.  Rando Moreno, celebrating his 23rd birthday, followed and yanked an RBI double into the right-field corner.
Richmond got right back after Pineiro in the second, plating two more runs on three more hits.  Mitch Delfino led off and cracked a single to left-center field.  Engel Beltre followed and bounced a single into right field.  Beltre then stole second base.  Blake Miller struck out, but Williams lined a two-run single into center field that gave Richmond a 3-0 lead.
Right-hander Kyle Crick worked around three walks to keep the Fisher Cats at bay through the first two innings.  However, hitting Jorge Flores to start the third would come back to haunt him.  Flores moved to third on a single from Melky Mesa and scored when Crick threw errantly on an attempted pickoff at first base.
Crick lasted just three innings plus one batter, but allowed just the lone run.  He conceded just two singles, but matched a career-high with six walks for the second straight start.  He also hit a man.  He left with the lead, but did not factor in the decision.  He threw 80 pitches in the outing, 40 of which were strikes.
Righty Edwin Quirarte relieved Crick and had no trouble finishing the fourth inning.  He also worked a scoreless fifth.  However, Shane Opitz opened the sixth inning with a single to right field.  Dalton Pompey followed and blasted a two-run home run to right field that tied the game, 3-3.  Quirarte did not register a decision, allowing two runs over 2 1/3 innings.  The runs snapped his team-high 13-inning scoreless streak.
Left-hander Phil McCormick (1-1) got the Squirrels out of a jam in the sixth, and eventually retired all six batters that he faced to earn the win, his first.
The Squirrels grabbed the lead back in the eighth inning.  With one out, New Hampshire went to the bullpen for the first time.  Righty Greg Burke hit Mac Williamson with his first pitch.  He advanced to second on a groundout and scored when Ricky Oropesa lined a single to right field.  Burke (2-1) absorbed the loss for New Hampshire.
Richmond iced the win with three more runs in the ninth inning.  They came against lefty Luis Perez.  Mitch Delfino sparked the inning with his fourth hit of the night – a single.  Beltre then reached on a fielder's choice before Williams delivered a two-run triple to right-center field.  Williams knocked in four runs in the ballgame, matching his season-total coming in.  Tomlinson then capped the scoring with a sacrifice-fly.
Lefty Josh Osich slammed the door in a non-save situation, working a scoreless ninth inning.  It snapped an eight-appearance streak of recording a save for Osich.
The finale of the three-game series is scheduled for 1:35 p.m. at Northeast Delta Dental Stadium.  Richmond LHP Matt Lujan (3-4, 4.66) will make the start against  New Hampshire LHP John Anderson (1-2, 5.21).  The Flying Squirrels Pregame Warmup will begin at 1 p.m. on Fox Sports 910 and FoxSportsRichmond.com.