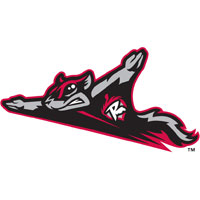 Chase Johnson pitched the Richmond Flying Squirrels (6-9) towards a 5-1 victory over the Altoona Curve (5-9) on Thursday night at Peoples Natural Gas Field. The Squirrels staked Johnson (1-1) to an early lead with a run in the third and three more in the fourth. Reliever Christian Jones replaced Johnson and retired all eight batters he faced to retain the Squirrels lead into the ninth. Ray Black finished the job by retiring the side in a non-save situation. Richmond and Altoona will play game two of the series on Friday night at 6:00 PM.
Christian Arroyo lifted the Squirrels to a 1-0 lead in the third inning off of Altoona starting pitcher Cody Dickson. With two outs, Rando Moreno sliced a soft double inside the third base bag. Arroyo then lifted acrisp base hit into the outfield to plate Moreno for the early edge.
The Squirrels added three more runs off Dickson in the top of the fourth frame to take a 4-0 advantage. Dickson got himself into trouble when hit Ricky Oropesa in the helmet with a curve ball to start the frame. Hunter Cole followed that with a double and Myles Schroder added another two-bagger, plating a pair. Moreno then brought home Schroder with a single for a 4-0 edge. Dickson lasted five innings and allowed all four runs on six hits as the losing pitcher.
The four early runs seemed like enough for Squirrels starting Chase Johnson. The Richmond righty turned in his longest outing of the season andlimited the Curve to just one run on four hits over 5 1/3 innings of work. Johnson allowed the lone run to start the sixth on a triple and groundout. Johnson used 90 pitches and struck out a pair to earn the win. Christian Jones replaced Johnson with the bases empty in the sixth.
Altoona also reached into the bullpen to start the sixth inning by bringing on Saturday's winning pitcher at The Diamond Frank Duncan. Duncan kept the Curve close by hurling three innings. Richmond did tag Duncan for a run in the eighth to extend their lead, 5-1. Duncan hit Myles Schroder with one out and yielded a sharp line drive double to Matt Winn. Jones was superb in his return form the disabled list and bridged the game to the ninth. The lefty retried all eight batters he faced and handed the ball off to closer Ray Black with a 5-1 lead in the ninth. Black punched out a pair and set the side down in order to preserve the Squirrels win.
The Flying Squirrels road trip continues Friday in Altoona with RHP Joan Gregorio (0-0, 0.00) faces Altoona RHP David Whitehead at 6:00 PM. Season tickets, mini plans, and group packages are currently available by contacting the box office at 804-359-FUNN or online at www.squirrelsbaseball.com.