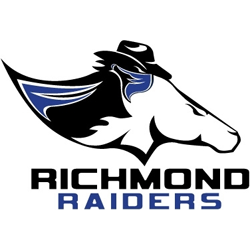 Another season opener, another disappointing blowout. Following last season's opening night 42 point loss to the eventual champion Alabama Hammers, the Richmond Raiders were hoping for a better start to the 2014 campaign when they hit the road to take on the expansion Trenton Freedom. But it was a similar result for Richmond as the Freedom cruised to a 52-17 win Sunday afternoon.
Freedom quarterback Warren Smith, who last season piloted the Raiders to the PIFL Championship Game, threw more touchdowns (four) than incompletions (three) and guided Trenton to touchdowns on all eight possessions he completed before backup Stephen Panasuk finished the game. Smith also ran for two scores, including a 40 yard scamper through the open field on the first play of the fourth quarter.
Malik White, getting his first game action as Raiders quarterback after backing up Smith last season, had a rocky start. He fumbled an exchange with center Roman Pritt and threw an interception on the first two possessions. But the rest of the offense didn't fare much better, getting flagged for six first half penalties, two of which negated touchdowns. A defensive penalty wiped out an interception midway through the second quarter. The Raiders didn't get on the scoreboard until T.C. Stevens hit a 21 yard field goal to end the first half.
Richmond got a spark from special teams in the fourth quarter. Kevin Allen returned a blocked extra point for two, and Gerron "Scooby" Bryant had two kickoff returns totaling 79 yards. Both returns led to Raider touchdowns, but they came too late to make a difference.
Hakeem Moore led the Raiders with six catches for 82 yards and a touchdown. Bryant had a touchdown among his four receptions for 48 yards. White completed 21 of 32 passes for 183 yards. The Raiders are facing a short turnaround, as they will travel to Columbus, GA for a date with the Columbus Lions Saturday night.
The Raiders' home opener will be April 12 in a Championship Game rematch against the Alabama Hammers. Single game and group event tickets are now on sale on the Raiders' website, RichmondRaidersProFootball.com, and the Raiders' ticket hotline at 804-780- 0430. Tickets start at $7, and lower level tickets are on a Buy 2, Get 1 Free special for Opening Night. Groups can call the hotline to get customized event packages and prices.