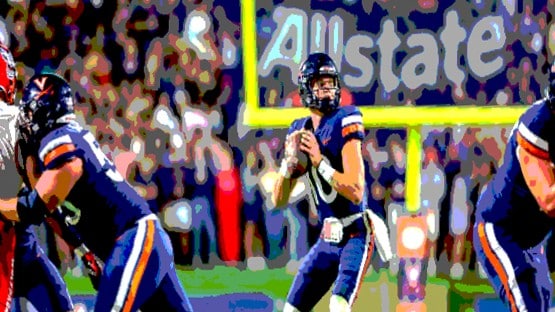 True freshman QB Anthony Colandrea still isn't officially the starter at Virginia, but he now has three starts under his belt, and his performance in the 24-21 loss to NC State in Week 4 earned him his best grades to date.
Colandrea graded out at 74.6 per Pro Football Focus in the loss.
His counting numbers: 18-of-30, 271 yards, two TDs, two INTs through the air, 58 sack-adjusted rushing yards on 11 attempts on the ground.
Colandrea was sacked twice for 15 yards in losses. In college, those count against rushing total; in the NFL, which does this the right way, sack yardage counts against net team passing yards.
For comparison, Colandrea's 377-yard, two-TD output in the 36-35 loss to JMU in Week 2 graded out at 62.9.
Week 3, in the 42-14 loss to Maryland, in which Colandrea passed for 265 yards and a TD, but was picked off three times and fumbled once, his grade was 56.3.
Back to the Week 4 numbers: Colandrea, per PFF, faced the most pressure he has had all season, with pressure on 17 of his 39 dropbacks.
On those dropbacks, he was just 2-of-10 with two INTs and a 14.2 NFL passer rating.
On his 22 clean-pocket dropbacks, Colandrea was 16-of-20 for 207 yards, two TDs and a 143.1 NFL passer rating.
Looking at depth: Colandrea was 12-of-14 for 143 yards and a TD on throws less than nine yards from the line of scrimmage, and 6-of-15 for 138 yards, a TD and two INTs on passes that traveled 10 or more yards downfield.
Run game, blocking grades
Virginia gained 126 sack-adjusted rushing yards on 39 attempts, 3.2 yards per – still not good, anywhere near good.
And then you factor in that 34 yards of that total came on six Colandrea scrambles, and it looks less good.
Fifteen of the 39 attempts were for no gain or lost yardage; nine others gained either one or two yards.
Not good.
So, there was that, and the constant pressure in the passing game.
The five starters on the line each went all 74 snaps.
Sophomore left tackle McKale Boley earned a season-high 62.3 PFF grade for his effort, including a career-high 75.6 pass-block grade in there.
Right tackle Ugonna Nnanna was debited for the two sacks – he's now allowed seven through four games, and has a season PFF pass-block grade of 21.8.
Defense grades
Safety Dave Herard had a forgettable night – allowing two catches on two targets, including a 48-yard catch-and-run TD, and a team-high two missed tackles, earning a 56.0 PFF grade for his work.
The best night: freshman cornerback Dre Walker had the highest PFF grade (75.6) on the unit, allowing one catch (a 9-yarder) on four targets on 22 pass-coverage snaps (35 snaps total) on the night.
Good pressure up front from defensive tackles Aaron Faumui (three pressures on 24 pass-rush snaps, 73.5 PFF grade), linebacker James Jackson (three pressures, including a sack, on 11 pass-rush snaps, 69.8 PFF grade) and edge rusher Chico Bennett Jr. (three pressures on 31 pass-rush snaps, 55.6 PFF grade).
The 15 pressures, a modest number, was a season-high.
For comparison, the unit averaged 16.6 pressures per game in 2022.