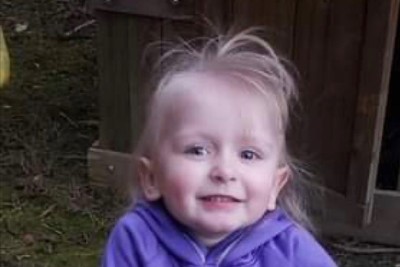 A contractor digging on a residential building site in Fishersville on Tuesday morning found what appeared to be human remains.
The remains don't appear to be related to any active missing person's cases in Augusta County, Augusta County Sheriff Donald Smith said.
In a statement, Smith specifically ruled out any link to the active missing person case involving 3-year-old Khaleesi Cuthriel.
Cuthriel was reported missing in September 2021, and two people have been indicted in her murder – Candi Royer, 41, and Travis Brown, 29.
Investigators determined that Cuthriell died while in the care of Royer and Brown at an address in Augusta County where the two had been residing.
The Sheriff's Office executed a search warrant at the address, 249 Cattle Scales Road, in September 2021 with the assistance of the Virginia State Police Bureau of Criminal Investigation and the FBI.
According to investigators, Cuthriell, the daughter of Amanda Arey had been placed in the care of Royer while Arey was incarcerated at Middle River Regional Jail in October 2020.
Arey reported this to a jail officer on Sept. 4, 2021, according to the sheriff's office. She also said that she had been told by friends that Royer had placed her daughter in the care of the child's aunt, who lives in Covington, or possibly in the care of her maternal grandmother.
Several friends and family of Royer also reported to investigators being told this by Royer, and that the child had not been seen with Royer since February 2021.
Brown and Royer were arrested in Pennsylvania on Sept. 12, 2021.
The one missing piece in the case is the discovery of the 3-year-old's body.
In the Tuesday case, sheriff's deputies responded to the scene on the 1600 block of Tinkling Springs Road in Fishersville at 9:33 a.m.
Investigators from the August County Sheriff's Office, as well as members of the Virginia State Police Bureau of Criminal Investigation in Appomattox, are on the scene.
The investigation into this matter is ongoing, and the remains, once excavated, will be sent to the Office of the Chief Medical Examiner in Roanoke.