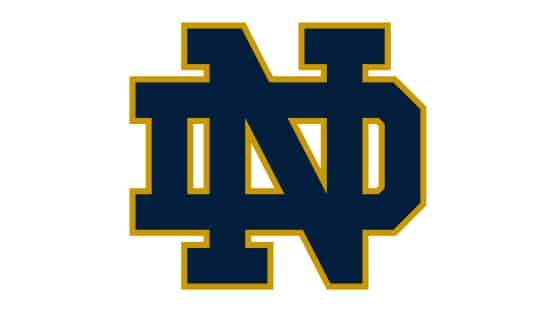 Notre Dame has lost four straight, eight of its last nine, is 2-13 in the ACC, the wins over Louisville and Georgia Tech.
You're not going to want to hear me say this, because I said it about Louisville, and look how that one turned out, but …
Notre Dame might be playing its best basketball of the season right now.
There. I said it.
Actually, there is that inexplicable 70-52 win over Michigan State back in December, but other than that, the Irish (10-16, 2-13 ACC) might be the best team currently on a long losing streak in the country.
Just since Jan. 24, there's a three-point loss at #22 NC State, a two-point loss at Georgia Tech, a six-point home loss to Virginia Tech, and a four-point loss at Duke.
The Irish could have won any or all of those games.
What I'm saying here is, don't sleep on these guys.
Because they can shoot the three, they've got a puncher's chance.
Rotation
6'10" senior center Nate Laszewski: 14.5 ppg, 7.1 rebs/g, 53.6% FG, 42.9% 3FG
6'6" senior forward Dane Goodwin: 12.1 ppg, 5.2 rebs/g, 45.0% FG, 39.2% 3FG
6'4" freshman guard JJ Starling: 11.7 ppg, 42.3% FG, 30.2% 3FG
6'5" senior forward Cormac Ryan: 11.6 ppg, 4.1 rebs/g, 41.7% FG, 38.0% 3FG
6'4" senior guard Marcus Hammond: 8.8 ppg, 42.8% FG, 39.0% 3FG
6'5" senior guard Trey Wertz: 8.2 ppg, 3.0 assists/g, 38.9% FG, 32.5% 3FG
6'8" freshman forward Ven-Allen Lubin: 6.5 ppg, 4.5 rebs/g, 58.5% FG
Projections
ESPN BPI: Virginia +17, 95.5% win probability
EvanMiya: Virginia 74-59, 93.7% win probability
KenPom: Virginia 74-59, 92% win probability
BartTorvik: Virginia 72-58, 92% win probability