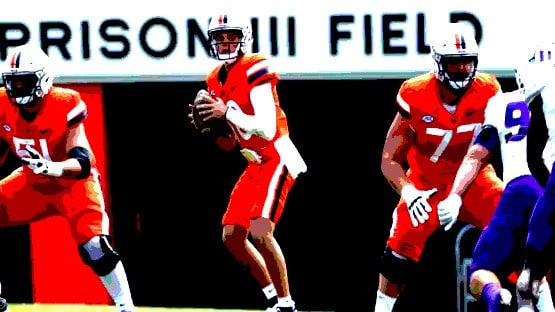 Virginia, behind first-year quarterback Anthony Colandrea, had JMU squarely on the ropes, leading 35-24 with just over 12 minutes remaining.
Then the rain came and soaked the playing surface at David A. Harrison III Field. It also must have soaked the spirits of most of the UVA faithful as well, as most decided on not coming back into the stadium once the modest rain delay of just over an hour ended.
The Cavaliers must have been a bit shocked to look around the once nearly filled stadium drenched in orange to be, well, not so full, and plenty of JMU purple.
Final: JMU 35-34.
We could place blame on the lame UVA fan base for bailing, but that would not be fair. Plenty of blame should be placed on Tony Elliott and staff for making no adjustments during that delay.
OK, he did adjust. It didn't have an impact coming back to the field. JMU's offense sliced through the Virginia defense with ease, scoring twice, to steal a win.
Saturday was a huge opportunity for a Virginia football program in desperate need of something positive to happen. And for three quarters, that Hollywood script was playing out.
Which makes the Cavalier fans not making their way back even more demoralizing. It wasn't as though the team was getting embarrassed by little brother. Quite the opposite. Virginia had taken an early gut-punch by JMU, falling down 14-0, to get up off the mat to take a 35-24 lead.
Heck, UVA even had an earlier 11-point lead at 28-17, then saw JMU slice it to four at 28-24 before an electrifying pass from Colandrea put the Cavaliers in business inside the JMU redzone, and eventually scoring again to go back up 11.
Cavalier fans had every reason to celebrate.
Running back Mike Hollins scored twice, there was Colandrea's spectacular play, a Virginia defense that bent, but didn't break.
Then the rain came, and the fans left.
It was demoralizing in the press box; imagine how it was on the UVA sideline.
The result today doesn't mean the Virginia head coach Tony Elliott can't find the right recipe for a successful 2023 season, but it sure does make it significantly harder, at 0-2, and a trip to College Park Maryland up next, where the Terrapins are licking their chops makes 0-3 a given.
Despite the loss, there were some positives
True freshman quarterback Anthony Colandrea, pressed into a starting role due to the injury to Tony Muskett, had a great day. Colandrea completed 20 of 26 pass attempts for 377 yards and two touchdowns.
Beyond his stats, Colandrea's composure and pocket presence was outstanding, despite, shall we say, less than great pass protection.
Colandrea drew praise during spring practice for exactly those traits.
Remember, Elliott himself said Colandrea pushed Muskett all the way to the end of camp. He showed why today.
After the delay, it was a different game
Not to beat a dead horse, but it didn't take a genius to see how the weather delay changed the momentum in this game.
The weather is no excuse.
JMU endured the same delay in the visitors' locker room. I've been in there, think of a sardine can, smell and all.
But it was the Dukes that came out of the delay throttling the Cavalier defense. JMU smashed Virginia in the mouth, scoring two touchdowns on two drives that took just over six minutes.
Virginia, meanwhile, just took the pounding.
The Cavaliers abandoned the passing game and tried to run the ball and the clock.
It didn't work.
Good teams find ways to win. Bad teams just find ways to lose.
JMU has been a winning program for quite some time and knows exactly what to do when given the opportunity.
If you can't run, why try?
For the second consecutive season, Virginia's offensive line is a mess. That's what happens when you have to rebuild across the front, again. The Virginia offense ran the ball 31 times for 43 yards. Meanwhile, Colandrea threw for 377 yards.
How hard can that be to figure out?
Throw the ball, until you can't.
This one is on the coaching staff. They get paid way too much to not be able to figure out what is working and what is not.
There's always next week
It's been a decade since Virginia and Maryland got together on the football field. The Terrapins are in the Big 10 and have improved the last few years. Playing in College Park at night will be a tough task for this Virginia team.
This could present a huge opportunity for the Cavaliers to build on the positives from Saturday.
The passing game was strong. Hopefully by Friday night the Virginia coaching staff will have time to figure that out.