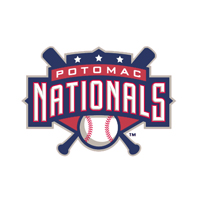 The Potomac Nationals (18-16 Overall, 12-8 Road) snapped a brief three-game slide with one of their best offensive performances of the season, as they tallied 13 runs on 16 hits in a 13-6 victory over the Winston-Salem Dash (14-23 Overall, 5-15 Home) at BB&T Ballpark.
Following a walk-off loss in the series opener and a blown early lead in Saturday's 4-2 loss, the P-Nats got off to a good start yet again with two runs in the second inning off of RHP Brandon Brennan (L, 0-3). In his third start with the Dash, Brennan allowed eight earned runs on nine hits over three+ innings. In the second inning, LF Alec Keller got Potomac on the board with an RBI double, and he scored one batter later on DH Khayyan Norfork's RBI single. Potomac led 2-0 after two innings.
In his seventh start of the season, RHP Erick Fedde (W, 2-3) did not have his best stuff, but saw his offense give him plenty of support. With a 2-0 lead in the third, Fedde allowed a three-run home run to 3B Gerson Montilla, Montilla's fourth home run of the season put Winston-Salem on top 3-2 after three innings. Fedde allowed five earned runs on seven hits over five innings.
From that point forward, it was all Potomac. The P-Nats set a season high for runs in an inning with six off of Brennan in the fourth. The righty pitched to six batters in the frame and failed to get an out. In the inning, RF Dale Carey and SS Osvaldo Abreu each had an RBI single, 3B Drew Ward had a two-run double, and a run scored on both a wild pitch and passed ball. RHP Kelvis Valerio inherited the bases loaded and allowed all three runs to score. The righty was then charged with a run in the fifth on an RBI double by 1B Jose Marmolejos and then an unearned run in the sixth, as C Raudy Read, who had reached on an error, scored on a bases loaded groundout by Keller.
Ahead 9-3 after 4.5 innings, the Dash tried to creep back into the game with a pair of runs off of Fedde in the fifth. The first came on an RBI single by Montilla, his fourth RBI of the game. The second came on a bases loaded 4-6-3 double play groundout by DH Marcus Davis. Potomac led 9-5 after five innings.
The P-Nats continued the offensive onslaught against the Winston-Salem bullpen and scored in the sixth and seventh innings. Keller's RBI groundout plated Read in the sixth, and three runs were charged to RHP Danny Dopico despite the fact that he did not allow a hit over 1.1 innings. Dopico walked Abreu, Ward, and 2B Bryan Mejia in a span of five batters and left the game for RHP Euclides Leyer. Leyer walked Keller with the bases loaded and made it 11-5 Potomac. Norfork followed with a two-RBI single, which capped off Potomac's scoring and made it 13-5. Norfork and Keller each had three RBIs in the victory.
RHP Mario Sanchez (SV, 1) pitched four innings and got credit for a save despite the blowout final score. Sanchez gave up an RBI single to C Sean O'Connell in the eighth inning, but induced a pair of double plays in the outing. The righty walked three and gave up four hits but only one run over his longest outing of the season.
All nine Potomac starters had at least one hit, while CF Andrew Stevenson, Marmolejos, Keller, and Norfork each had two hits. Ward led the way and reached base six times on three hits and three walks. 13 runs and 16 hits were both one shy of the season high for Potomac.
It will be a Monday matinee at BB&T Ballpark, as the P-Nats will turn to RHP Boone Whiting (3-1, 4.11) in an effort to split the series. Opposite Whiting will be RHP Matt Cooper (2-2, 3.29) who allowed just one run over seven innings last time out vs. Myrtle Beach. Whiting meanwhile has four straight quality starts and has gone at least five innings in all six starts so far in 2016. First pitch is set for 11:00am at BB&T Ballpark.
The Potomac Nationals Baseball Network will carry live coverage of the game beginning with the "P-Nats Lead-Off Show" at 10:45am. P-Nats Gameday Audio on the Potomac Nationals Baseball Network is available at www.potomacnationals.com or via the TuneIn Radio App.