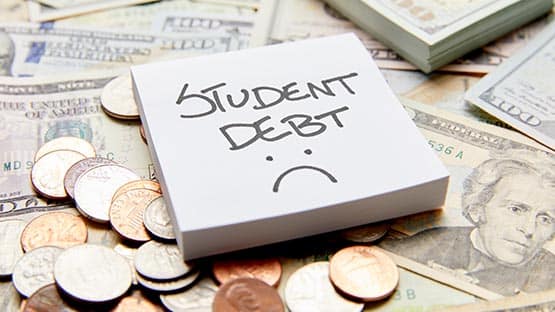 A growing number of organizations are calling on members of Congress to reject Republican efforts to use the Congressional Review Act to retroactively reverse the federal student loan payment pause and block President Joe Biden's debt relief plan.
The action would not only block the President's pledge to broadly cancel student debt, but it would also roll back four months of paused payments and waived interest charges – required the U.S. Department of Education to send loan bills to millions of borrowers.
Organizations representing borrowers, students, workers, people of color, veterans, people with disabilities, consumers and people of faith sent a letter today to Senate and House leadership.
The Student Borrower Protection Center said in a statement today that the proposal would "also result in chaos for military families, educators, first responders, and other public service workers in communities across the country."
According to an estimate by the SBPC, this proposal would force the Education Department "to claw back months of progress towards PSLF and Income-Driven Repayment relief and even reinstate already-cancelled debts for more than 156,000 public service workers."
"Advocates from across the country are clear: serious lawmakers cannot support this reckless, partisan proposal to automatically put tens of millions of people behind on their loan bills, reimpose billions of dollars of already waived interest charges on working families, and reinstate already canceled debts for teachers, nurses and servicemembers," said Mike Pierce, Executive Director, Student Borrower Protection Center. "Instead of offering their own vision for how to address America's student debt crisis, right-wing lawmakers are pulling a shameful, irresponsible, and desperate stunt."
The groups caution in their letter:
"These CRA efforts would immediately force tens of millions of borrowers into abrupt and unplanned repayment with devastating effects, including adding thousands of dollars of payments and interest onto their loan balances. It would also force the U.S. Department of Education (ED) to unwind loans forgiven under Public Service Loan Forgiveness for nurses, educators, servicemembers, and hundreds of thousands of other public service workers across the country."
"ED analysis demonstrates that a resumption of loan payments without cancellation will spike delinquency and default rates for the most financially vulnerable. Further, more than 26 million Americans applied for student debt cancellation in the few weeks before it was shut down by partisan attacks in the federal courts. This extraordinary engagement with President Biden's cancellation plan is further evidence of both the crushing burden this debt places on workers and families from all walks of life and the promise of hope debt cancellation offers for millions seeking an economic fresh start."
According to the SBPC:
Since March 2020, more than 37 million borrowers across the country have benefitted from the moratorium on student loan payments and suspension of interest.
In a matter of weeks following President Biden's historic student debt cancellation announcement, 26 million borrowers submitted applications – further evidence of the crushing burden this debt has had on workers and families from all walks of life. Sixteen million borrowers have already been approved for relief.
Tens of millions of borrowers are in economic limbo as they await a Supreme Court ruling in June – with the looming threat of payments set to resume later this year.
These CRA resolutions, if enacted, will add to the confusion and panic that borrowers all over the country are already experiencing as they wait on the court.
Learn more at protectborrowers.org