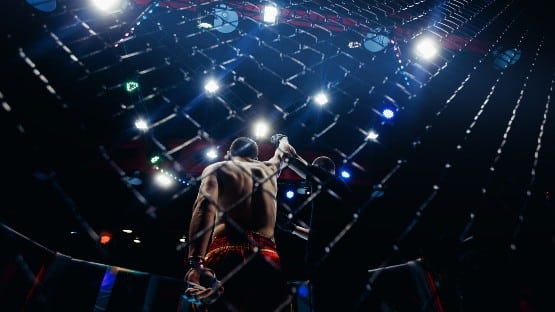 Monday was another day with two overcaffeinated white guys challenging each other to a cage fight.
"MMA fight for charity of our choice. Sept 30th in Tulsa, Oklahoma. I'll give you 3 days to accept."
This was from a guy named Markwayne Mullin, who I just learned today is a U.S. senator from Oklahoma, and you're not going to be surprised from the fact that he's challenging a guy to a fight that this Mullin guy is a Republican.
In his defense, Mullin was, sorta, kinda, responding to a challenge from a guy named Sean O'Brien, who just so happens to be the president of the Teamsters.
(Yeah. Those Teamsters.)
O'Brien escalated the months-long spat between the two by calling out Mullin in a tweet last week, telling the senator to "quit the tough guy act in these Senate hearings."
"You know where to find me. Anyplace, anytime, cowboy."
O'Brien hilariously included with his tweet a photo of Mullin standing on a block during a Senate candidate debate, and the hashtag #LittleManSyndrome.
Mullin is a Napoleonic 5'8", but to his credit, he does actually have three career MMA fights on his resume, dating back to 2006-2007.
All three were wins – two by submission, one with a rear naked choke, the second with an arm bar, and a third win by TKO.
The last two wins were over a guy named Clinton Bonds who finished with a career record of 1-11. Bonds' one win came over a guy who didn't win any of his MMA fights.
So, maybe take Mullin's 3-0 MMA record with a grain of salt, though there is something to like with him – OK, two things.
One, drawing on his cagefighting background, he has consistently advocated in his time in Congress for federal regulation of MMA, including introducing legislation in 2016, while he was a member of the U.S. House, that would require the UFC to share financial information with its fighters.
Two, he was a witness to the shooting on Jan. 6, 2021, of Trump insurrectionist Ashli Babbitt, and said afterward that the Capitol police officer "didn't have a choice" but to shoot, and that the action "saved people's lives," with members of Congress and their staff "in danger" from the "mob."
Anyway, Markwayne wants to fight the Teamsters guy, and now we're waiting on him to respond, and for Dana White to figure out a way to get them on the undercard of Elon Musk-Mark Zuckerberg.
Am I the only one who sees Don Jr. and Hunter Biden fleshing this one out for a triple main event?