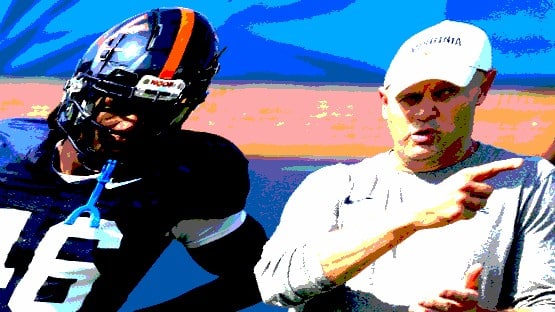 Virginia second-year defensive coordinator John Rudzinski knows that his unit will be put to the test against another high-octane offense for a third-straight week when the Cavaliers square off against Maryland under the Friday night lights — but he's ready to rumble.
Tennessee led the country in total yards and scoring last season, and hung 49 points on the Wahoo D in the opener. Then James Madison jumped out to a two-touchdown advantage before scoring on back-to-back, 80-yard drives in crunch time to complete the comeback last week, and UVA gave up 36 points.
The Terrapins put up 38 points in each of their first two wins, and just like the Volunteers and the Dukes, they possess an experienced, talented set of playmakers that will be tough to contain.
"They attack you in a bunch of different ways in the run game, same thing in the pass game, and then they have a quarterback that has great arm strength and good athleticism," Rudzinski said of the Terrapins. "So we're really excited for the challenge to go up to their place on a Friday night and go compete in a hostile environment."
As Coach Rud pointed out, it all starts with Terps QB Taulia Tagovailoa, who has thrown for over 8,500 yards and 56 touchdowns in his career (and rushed for over 200 more and 9 TDs), and broke all the school passing records in the process — completions, passing yards, passing touchdowns, total touchdowns, total offense and passing efficiency, to name a few.
He's also got plenty of talented weapons to get the ball to, and one missed step or missed tackle by the Hoos' defense could translate into points on the scoreboard on any given play. Rudzinski said he would like to have his players go into every snap with the mindset of not allowing those little miscues to happen, whether it's on defense or special teams.
"There's five plays in a football game that are going to be the difference between you winning and losing," said Rudzinski. "And we've just got to do a great job in those five plays, and you just don't know which one that's gonna be. It could be the first extra point or it could be the last two-point conversion — you've got to find a way to win those snaps."
The Terrapins have already racked up close to 1,000 total yards in just two games, and Tagovailoa has been a big reason why. He accounted for four touchdowns in the first half alone in the Week 1 win over Towson, and then battled back to lead his squad to victory last week against Charlotte after a disappointing first half.
Aside from Tagovailoa's scrambling ability, the backfield duo of Roman Hemby and Colby McDonald have combined for 311 yards and three scores in the first two games. Coach Rud realizes that stopping the run will be key if the Cavaliers wish to snap their five-game losing skid dating back to last season.
"When people can make it second-and-short and get you into tough third-down situations, that makes it very difficult as a defense," said Rudzinski. "They've got multiple backs that can run downhill. They got a big physical offensive line, and then to have a quarterback that has great arm strength that also can extend plays with his feet makes it challenging for us as a defense."
The coach said that UVA is in the midst of its best week of preparation thus far, and that despite the team's 0-2 record, the players have been positive and upbeat, and are willing to do whatever is necessary to get into the win column.
On the other side of the ball…
Offensive coordinator Des Kitchings took some positives out of last week's deflating, one-point loss to JMU, and believes the Cavaliers are on the cusp of putting it all together for 60 minutes.
"There's glimpses, and then obviously there's reasons for some — I wouldn't say concern — but disappointment," he said.
Kitchings alluded to the fact that the Hoos are getting the job done in practice, but for whatever reason, the same type of success hasn't always translated to gameday.
"It's obvious we haven't won a game in a while, and guys can be pressed to perform at a high level to help us win," Kitchings said. "Everybody in this program wants to win, but we don't have to press. Just go out and play free and it'll take care of itself."
The Maryland defense has been effective through two games, limiting opponents to 13.5 points per contest and just two offensive touchdowns across eight quarters. The Terps have produced 5 sacks and 9 tackles for loss, and will be aiming to put a ton of pressure on the pocket Friday night.
Kitchings confirmed after Wednesday's practice that as long as there are no unexpected setbacks, Tony Muskett will get the starting nod under center on Friday. First-year backup Anthony Colandrea did all he could in his first collegiate start to give the Cavaliers a chance to win last week, but as impressive as he played, Kitchings noted that Muskett earned the QB1 role in training camp and will retain his spot and be out there with the first team against Maryland.
Kitchings admits that he is confident in Colandrea's abilities going forward, and that when his number is called again, whenever that may be, he expects the youngster to be ready to contribute.
"What it shows to everybody — that we knew — we feel like we have really two good quarterbacks," said Kitchings. "They can go out and play for us at a high level to help us win."
The Terps have been decent against the run, an area where the Hoos have struggled, but nothing will discourage Kitchings from running the ball.
"We're not going to abandon [the run game]," Kitchings said. "We're not going to go out there and throw it 70 times in this game. We're still going to run the ball because that's just part of who we are, and we become more efficient and then take our shots when they're there. And if we have to drop back to pass, then we'll do that and clean up our protection issues, but we're not changing who we are or what we're doing."
Through the first two weeks, UVA has put up a net of just 113 yards on the ground (56.5 per game; 1.5 yards per carry), but have found the end zone four times. Mike Hollins scored two of those touchdowns in last week's loss, and has shown that he has the ability to be a bruising, physical threat in the red zone and near the goal line.
Kitchings hopes that his offensive line can continue to create the holes needed for Hollins, Perris Jones and Kobe Pace to be effective and explosive this week against a hard-nosed Maryland front seven.
"We believe we have some things we can do to give us an advantage and run the football this week, and then take our chances with throwing the ball down the field," said Kitchings.