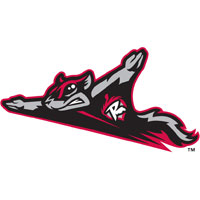 The New Britain Rock Cats (65-64) used a five-run fourth inning to waltz past the Richmond Flying Squirrels (71-59), 7-0, at The Diamond on Wednesday night.  Despite the Squirrels winning the completion of a suspended game on Tuesday, they have officially lost five consecutive games.  With Akron's victory over Altoona, the Squirrels fell into a first-place tie in the Western Division for the first time since July 12th.
After two scoreless innings, the Rock Cats struck first in the third inning against lefty Jack Snodgrass.  Snodgrass started his own trouble by hitting Corey Wimberly to begin the frame.  Matt Koch then singled on the infield to put two aboard.  The Rock Cats then executed a successful double-steal and two outs later, Nate Hanson supplied another infield-single for a 1-0 lead.
Things unraveled completely for Snodgrass and the Squirrels in the fourth inning.  Snodgrass walked Reynaldo Rodriguez to start the inning.  Jorge Polanco and Tony Thomas followed with back-to-back singles to load the bases with nobody out.  Wimberly then made it 2-0 with a sacrifice-fly to center field.  Koch then knocked a two-run single to make it 4-0.  Snodgrass then issued his second walk of the inning, to Levi Michael, to start trouble anew.  He struck out Eddie Rosario, but Hanson crunched a two-run double off the wall in left field for a 6-0 lead.
Snodgrass (10-6) did not survive the fourth inning and took the loss over 3 2/3 innings.  He was charged with six runs on seven hits, walked two and struck out three.
Meanwhile, lefty Taylor Rogers (10-6) shrugged off the Squirrels across five scoreless innings.  He did walk four, but allowed just three hits and struck out three.  He earned his 10th victory of the season.
Right-hander Alex Wimmers and left-hander Jim Fuller finished the shutout for the Rock Cats.  Each handled two swift innings, with Fuller striking out the side in the ninth.  New Britain capped their scoring with a run off of lefty Steven Okert in the ninth.
The finale of the three-game series is scheduled for 7:05 p.m. at The Diamond on Thursday night.  Richmond LHP Ty Blach (7-7, 3.40) will make the start against New Britain RHP Jose Berrios (2-3, 3.72).  The Flying Squirrels Pregame Warmup will begin at 6:35 p.m. on Sports Radio 910 and SportsRadio910.com.