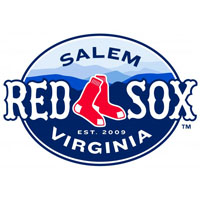 Salem went 0-8 with runners in scoring position, dropping the series finale to Carolina 3-1. The Sox managed just one run in the 5th inning when a Tim Roberson groundout to second got Kevin Heller home from third.
Shawn Morimando picked up his 5th win of the season, surrendering a lone run and 3 hits in 6 innings of work. Simon Mercedes dropped to 1-4 on the season after a loss in his second start since entering the rotation. Mercedes allowed 3 runs and 4 hits in 3 and 1/3 innings, walking 5 and striking out 2 Mudcats. A bright spot for the Sox was William Cuevas out of the bullpen. The righty allowed just 2 hits and struck out 8 in 4 and 2/3 innings of work.
Carolina scored all 3 of its runs in the second. Ryan Battaglia singled in Logan Vick to get the Cats on the board. Then Todd Hankins doubled in his second and third runs of the series, scoring James Roberts and Battaglia, to give Carolina all the runs they would need.
Grant Sides pitched a scoreless 8th and Elvis Araujo pitched 2 shutout innings for his 2nd save.
The Red Sox stranded 7 runners on base. In the 4 game series, the Sox left 30 men on base.
Salem once again failed to get to 6 games above .500 in its 5th chance. The loss snapped the Red Sox 4 game win streak. The Sox are off tomorrow, before returning home to LewisGale Field Tuesday night to open a four game set with the Winston-Salem Dash. Cody Kukuk will make the start for the Sox. First pitch is at 7:05