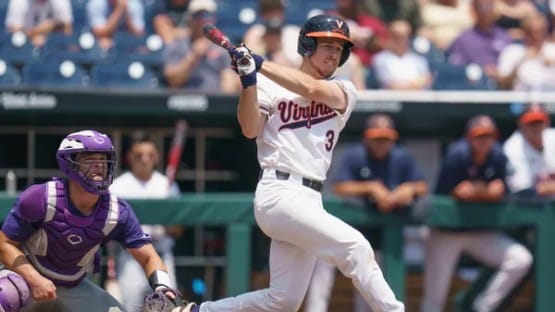 A handful of local players could very well hear their names called in the opening rounds when the Major League Baseball Draft commences this weekend in Seattle.
University of Virginia third-year standouts Kyle Teel and Jake Gelof are both considered to possibly be selected in the opening two rounds tonight (7 p.m., ESPN).
Teel, the 2023 ACC Player of the Year and batting champion, is listed as the No. 7 overall prospect and the top catcher in the draft, according to MLB Pipeline, and is projected by many draft experts to be taken in the top 10 picks.
Should that happen, Teel would be the first Cavalier to do so since Pavin Smith and Adam Haseley went back-to-back at Nos. 7 and 8 in the 2017 draft.
Teel started all 65 games for the 50-15 Wahoos, who advanced to the College World Series for the second time in his three seasons in Charlottesville. He led all ACC batters with a .407 average, cranking out 105 hits, 25 doubles, 13 home runs and 69 RBI.
Behind the plate, Teel owned a .995 fielding percentage, and allowed just 25 stolen bases in 44 attempts all year. He won the Buster Posey Award for the nation's top backstop, and has mastered the art of "framing" pitches.
He would be the fifth Cavalier to be taken in the top 10 in the Brian O'Connor era (since 2004), along with Ryan Zimmerman (No. 4 in 2005), Danny Hultzen (No. 2 in 2011), and the aforementioned Smith and Haseley.
Gelof, who checks in at No. 35 in the prospect rankings, is UVA's all-time, undisputed home-run king. The power-hitting third baseman blasted a Virginia single-season-record 23 homers this season, adding to his career total of 48, also a program record.
Gelof also set the school's single-season RBI mark for a second-straight year with 90 in 2023. He was a semifinalist for both the Golden Spikes Award and the Dick Howser Trophy, two of the top individual honors in college baseball. Gelof was also selected to the All-ACC first team for the second year in a row.
"Teel and Gelof have been outstanding," O'Connor said during the season. "Obviously the performance on the field, but their leadership in the clubhouse, your draft-eligible year can be a challenging year because there can be distractions, and they haven't been distracted because their approach has been so good and they've led by example on the field, but they've also led in that clubhouse and have really taken charge and shown what this baseball program is about."
Additionally, Cavalier junior outfielder Ethan O'Donnell, another All-ACC first-teamer, is ranked No. 153, and could choose to pursue a professional career. O'Donnell, who transferred from Northwestern last offseason, also started all 65 games, batting .354 with 90 hits, 18 doubles, 13 homers and 57 runs driven in. He also led the team with 18 stolen bases, and was named to the ABCA/Rawlings Gold Glove team for his stellar play in center field.
Junior pitcher Connelly Early has a chance to be drafted in the middle rounds, but still has two years of college eligibility remaining. Virginia fans would love to see both O'Donnell and Early return for at least one more year.
Meanwhile, grad transfers Nick Parker and Brian Edgington have exhausted their eligibility, and are hoping to catch on with an MLB organization.
Jonny Farmelo, an 18-year-old, speedy center fielder out of Westfield HS in Centreville who has committed to UVA, is rated as the 39th-best player available. Farmelo will likely hear his name called tonight, and will then have a tough decision to make in terms of playing his next season in Charlottesville or in the majors. He said in a recent interview that whatever path he ultimately decides to take, he will be satisfied with his choice.
"I love the University of Virginia and the coaching staff there," Farmelo told DC News Now reporter Jake Rohm. "I've got a bunch of boys going there too, so I have no problem betting on myself there, if that's where it ends up."
Stay tuned, Wahoo fans.
Virginia is for baseball prospects
Another Northern Virginia high-schooler expected to be drafted is 6-foot-7 high-school phenom Bryce Eldridge (James Madison HS in Vienna), the No. 23 draft prospect who, like Shohei Ohtani, is capable of putting up some impressive stats with his bat and on the mound — he's a first baseman and a right-handed pitcher. Eldridge has committed to Alabama, but will likely forgo his collegiate career and make the immediate jump into The Show.
Moving to the southwestern part of the Commonwealth, Virginia Tech outfielder Jack Hurley is rated as the No. 36 overall prospect and could be taken in the first round. Another Hokie, right-handed sophomore pitcher Drue Hackenberg, who played his high-school ball at nearby Miller School of Albemarle, is ranked No. 200.
RHP Brady Smith, an 18-year-old Hokie commitment from Grainger, Tenn., is listed at No. 138, while 6-6 lefty Blake Dickerson, another Tech commit out of Ocean Lakes HS in the 757, checks in at No. 158.
For the Birds
Baltimore has the 17th pick in the first round, and the Orioles have done an excellent job the past few seasons rebuilding the franchise through their deep minor-league system, and it all started through the draft.
The O's have had top-five selections in each of the last four drafts, including a pair of No. 1 picks — C Adley Rutschman (No. 1 in 2019); OF Heston Kjerstad (No. 2 in 2020); OF Colton Cowser (No. 5 in 2021) and SS Jackson Holliday (No. 1 in 2022).
Baltimore hasn't taken a pitcher in the first round since Grayson Rodriguez (No. 11 in 2018), but reportedly have their eyes on Hurston Waldrep, the talented right-hander out of Florida.
Waldrep posted a 10-3 record and a 4.16 ERA in 19 starts this past season, recording a team-high 156 strikeouts in the process. If the Orioles don't go that route, they could choose to roll the dice on a high-school bat.
What will the Nats do at No. 2?
LSU teammates Paul Skenes (RHP; No. 1) and Dylan Crews (OF; No. 2), along with Florida's Wyatt Langford (OF; No. 3) and high-schoolers Walker Jenkins (OF; No. 4) and Max Clark (OF; No. 5), are the top players in the draft, according to MLB Pipeline.
The Pirates own the first pick, and they are surprisingly rumored to be leaning toward Clark or Jenkins. Next up at No. 2 is Washington, and should Pittsburgh go in that direction, the Nationals would have their pick of the top three players in college baseball in 2023.
Skenes (13-2, 1.69 ERA, 209 strikeouts in 19 appearances) was regarded as the best pitcher in the country all season, and the Nats could certainly use another solid arm in their starting rotation down the road. He was named the CWS Most Outstanding Player, the ABCA National Pitcher of the Year, National Player of the Year by D1 Baseball and Collegiate Baseball, a consensus first-team All-American, and the Dick Howser Trophy winner.
Washington's farm system is already loaded with plenty of future outfield talent, so if Pittsburgh happens to select Skenes, it's a little less likely that the team will go that route. At the same time, however, it's hard to pass up on what many experts believe are future perennial All-Stars in both Crews and Langford.
Crews, the SEC Player of the Year who also won the Golden Spikes Award for the nation's top performer, batted an eye-popping .426 this season with 110 hits, 16 doubles, 18 homers and 70 RBI; Langford hit at a .373 clip in 2023 with 88 hits, 28 doubles, 21 home runs and 57 RBI for the Gators.
Jenkins, who is committed to North Carolina should he decide to play college ball, is thought of as the best positional prospect out of the Tar Heel State since Josh Hamilton, who was the top pick in the 1999 draft.
Clark, a Vanderbilt commit, is a speedy, left-handed batter who was named the Gatorade National Player of the Year after excelling at the high-school level in Indiana, and is regarded as the best prospect from the Hoosier State in over two decades.
Some other NCAA big names among the top 25 prospects are Wake Forest RHP Rhett Lowder (No. 6), Tennessee RHP Chase Dollander (No. 9), Waldrep (No. 19), Miami 3B Yohandy Morales (No. 20), Vanderbilt OF Enrique Bradfield Jr. (No. 21) and Wake Forest 3B Brock Wilken (No. 25).
There will be 20 total rounds of the draft, running from Sunday through Tuesday, ahead of the All-Star Game at T-Mobile Park. Rounds 3-10 will take place on Monday (2 p.m. ET, ESPN+ and MLB.com), while the final 10 rounds will begin at 2 on Tuesday.
MLB Draft Order
First Round
Pittsburgh Pirates
Washington Nationals
Detroit Tigers
Texas Rangers
Minnesota Twins
Oakland Athletics
Cincinnati Reds
Kansas City Royals
Colorado Rockies
Miami Marlins
Los Angeles Angels
Arizona Diamondbacks
Chicago Cubs
Boston Red Sox
Chicago White Sox
San Francisco Giants
Baltimore Orioles
Milwaukee Brewers
Tampa Bay Rays
Toronto Blue Jays
St. Louis Cardinals
Seattle Mariners
Cleveland Guardians
Atlanta Braves
San Diego Padres
New York Yankees
Philadelphia Phillies
Houston Astros
Seattle Mariners*
Seattle Mariners**
Tampa Bay Rays**
New York Mets**
Milwaukee Brewers**
Minnesota Twins**
Miami Marlins**
Los Angeles Dodgers**
Detroit Tigers**
Cincinnati Reds**
Oakland Athletics**
*-Prospect Promotion Incentive Pick
**-Competitive Balance Round A Pick