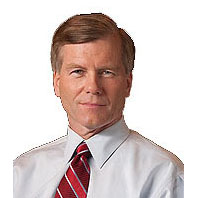 Gov. Bob McDonnell followed through with signing controversial legislation requiring women in Virginia seeking abortions to first undergo an ultrasound procedure.
Comments made by the rumored top contender for a spot on the GOP presidential ticket are fueling McDonnell's critics who say the law is an invasive government overreach.
"Most agree that a woman's decision to seek an abortion is difficult, irreversible and life-altering. Nearly everyone agrees that reducing the number of abortions is a laudable goal. I believe that we become a more compassionate society when we enact reasonable legislation to protect innocent human life," McDonnell said in a statement on Wednesday.
Fairfax Democratic State Sen. Janet Howell said McDonnell "is putting his own personal beliefs before Virginia women and is making them go through an unnecessary, costly and intentionally traumatizing medical procedure." State Sen. Barbara Favola, D-Arlington, said the signing marks the day that Virginia "joins the most restrictive states in the nation with respect to access to reproductive healthcare services."
"I fear women will seek back-ally, unsafe abortions because the long arm of the state is now between a woman and her doctor," Favola said.
The legislation would seem to mute criticisms from the right that the national health-care reform passed two years ago is itself an overreach of government power into health care. McDonnell, as the bill's champion, would seem to become a lightning rod for critics of the recent and dramatic Republican Party push for reversals in women's reproductive rights were he to end up as the vice-presidential nominee.
More important to McDonnell was solidiying his standing among the GOP base.
"As difficult as an abortion decision is, the information provided by ultrasounds, along with other information given by the doctor pursuant to current law and prevailing medical practice, can help the mother make a fully informed decision," McDonnell said.
"As I have for 21 years as a public servant, I consider it important to embrace a culture of life in our Commonwealth, and to protect the life and liberty of all of our citizens. While we sometimes reach different policy conclusions in our great, free nation, let us continue to work together with respect and civility for the common good," McDonnell said.