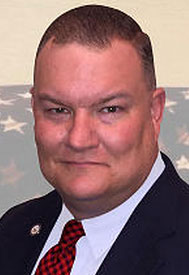 I am in support of Cpl. Derek Almarode for sheriff of Augusta County. As a citizen and business owner in Augusta County I have examined all candidates experience, qualifications and future plans, went to meet and greets, carnivals, etc. And in my opinion Cpl. Derek Almarode is by far the best and only man for the sheriff position. He has compassion for his department as well as all of the citizens of Augusta County. He has served this county in most all departments of the sheriff's department and his administrative experience is a plus as he already knows the budget and his very well laid out strategic plan is within the current budget while adding officers to each shift, providing more resource officers to ensure school campus safety for our children as well as the citizens of Augusta County.
Cpl. Derek Almarode will be a constitutional sheriff. He takes his oath to defend the U.S. and Virginia Constitutions very seriously. He will defend and preserve our basic civil rights. He has publicly stated he will see none of the abuses by government forced upon citizens of Augusta County. His 21 year career at the Sheriff's Office (and three in corrections) has prepared him to be in a position to lead from day one. The sheriff position is one that does indeed need to come from within and over the past three plus years Cpl. Almarode has been preparing for this position and has provided his structured plan to lead the sheriff's department into the future. He is compassionate not only for the citizens but the 83 men and women which make the sheriff's department.
Cpl. Almarode is the only one that is qualified in all areas of the sheriff's department and he will be open to inform the public at every step and take decisive action on changing evidence room policies to provide a stronger structure in maintaining the chain of evidence. Cpl. Almarode developed community policing, which is important to the citizens, and his plan to bring back reserve police will only enhance the safety of our county.
I ask you to examine all the candidates experience, qualifications and plans for the future. And with no doubt you will clearly see that man is Cpl. Derek Almarode.
He will be the leader we need for our county. He is not afraid of making tough decisions (the right decisions) no matter how hard and will follow through on all tasks at hand. He will be available to us all at anytime we need him. He even provided all citizens with his personal cell phone number – no other candidate did that.
Please join me on November 3 and vote the clear choice – Cpl. Derek Almarode for sheriff of Augusta County.
– Letter from Kathleen Wilson/Churchville