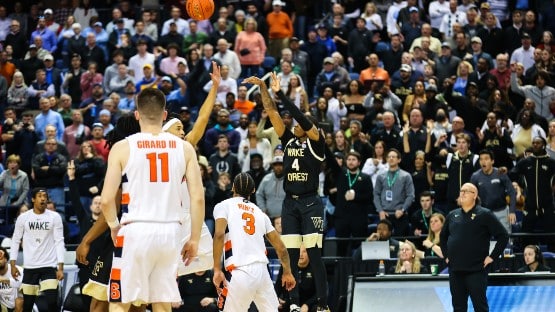 Daivien Williamson buried a three from the wing with half a second left to give Wake Forest a dramatic 77-74 win over Syracuse in the first game of the second round of the 2023 ACC Tournament on Wednesday.
Ninth-seeded Wake (19-13), for another day, keeps its slim NCAA Tournament hopes alive, and if nothing else, sewed up an NIT bid with the dub.
Eighth-seeded Syracuse (17-15) is likely done for the season with the loss.
The Orange led by 12 in the first half, but the Demon Deacons cut the margin to two, 35-33, at the half, and took a 12-point lead themselves with a 12-1 run over a 3:32 stretch of the second half.
'Cuse fought its way back into it, and eventually took the lead with 59 seconds left on a Benny Williams three that made it 74-72 Orange.
A Cameron Hildreth jumper tied the game with 35 ticks on the clock.
Syracuse coach Jim Boeheim called a timeout to set up a final shot, but Wake defended it well, forcing a contested late-shot clock 17-foot fadeaway from Joe Girard III that grazed the front rim and ended up in the hands of Williamson.
Williamson got the ball to point guard Tyree Appleby, who moments later found Williamson all alone on the wing for the game-winning splash.
With the win, Wake Forest advances to Thursday's quarterfinal, where the Deacs will face the tournament's top seed, Miami (24-6), with a scheduled noon tipoff.
Miami won the teams' only regular-season matchup, 96-87 in Coral Gables, on Feb. 18.
The predictive analytics website KenPom.com has Miami as a five-point favorite for Thursday's game.