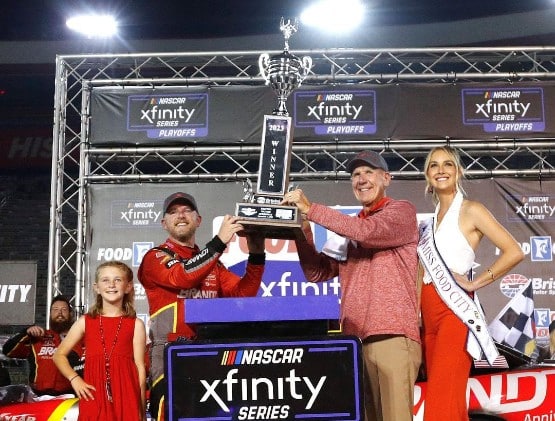 Using a bold strategy and fresh tires, NASCAR Xfinity Series regular Justin Allgaier picked his way through the crowded field on the high banks of Bristol Motor Speedway to claim a win in the Food City 300 race as well as a spot in the Xfinity Series Playoffs Round of Eight.
Allgaier averaged 85.521 mph around the 533-mile concrete oval at The Last Great Colosseum, completing the 300 laps while avoiding six cautions. with 14 drivers finishing on the lead lap and five drivers exchanging the lead eight times. The JR Motorsports driver led a race-high 110 laps, collected his second Bristol victory, his third win of the season and 22nd of his Xfinity Series career.
"This team has done such an amazing job at this racetrack. The fans were unbelievable. The pit strategy coming down pit road all by myself was nerve-wracking."
Driving the No. 7 Brandt Agriculture Chevrolet Camaro, Allgaier gave up the lead under caution with less than 50 laps to go to put on four fresh tires while his main rivals remained on the track.
Working his way back through the field, Allgaier engaged Daniel Hemric in a side-by-side battle before pulling away and clinching a place in the postseason in the debut race of the NASCAR Xfinity Series playoffs.
"The pit stops were amazing," Allgaier said. "I don't know if this is shots fired for the playoffs but it feels good."
Allgaier also broke the news in Victory Lane, announcing that he had re-signed for another season with JR Motorsports.
For runner up Daniel Hemric, "Clean air was king." The Kaulig Racing driver added that "we had just enough race car there and once the top [groove] came in I had to live with it. [Allgaier's] tires were just too much at the end. We came a long way from the drop of the green flag to the checkered flag."
Hemric was 1.695 seconds behind as the runner-up to Allgaier. Hemric was followed by fellow championship contenders John Hunter Nemechek in third, Cole Custer who led 109 laps, finished fourth and rookie Chandler Smith rounded out the top five.
It was a night of celebration and disappointment for JR Motorsports. Drivers Josh Berry and Sam Mayer bumped on Lap 166 and placed the end result would place Mayer in 35th and Berry in 36th.
Winning owner Dale Earnhardt Jr., made his first Bristol start since 2017, had an eventful night as well. Junior lead 47 laps and looked to be on his way to a surprise win but a mechanical issue caused a fire under the hood and burned a hole in his fire suit.
"Somehow or another the shifter caught on fire," said the NASCAR Hall of Fame driver and broadcaster, who finished 30th. "I smelled it and said hopefully that's not me. My uniform was burning up. We were going to finish top 5 or top 10."
Earnhardt Jr. added "I had a blast and Justin wins. Thanks to all the fans. We had a great crowd tonight. It makes me want to do it more." Earnhardt, Jr. is scheduled to race at Homestead-Miami in another Xfinity Series race in a few weeks.
The Xfinity race also featured some hot tempers as well. Richard Childress Racing's Sheldon Creed tapped fellow teammate Austin Hill along the front stretch on Lap 216. Hill would finish 33rd and storm to the team hauler, refusing interview requests with the media.
Playoff contenders Sammy Smith finished ninth, Creed placing 11th and Parker Kligerman finishing 31st. Jeb Burton finished 13th.
All of the drivers mentioned above dropped below the cut line for the Round of 8 as the series heads for the second Round of 12 playoff race on Sept. 23rd at Texas Motor Speedway.