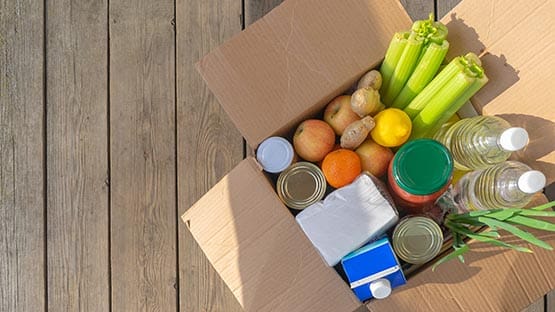 The Neighbor Bridge will celebrate its third Little Free Food Pantry on Saturday with a ribbon cutting.
A pantry opened in Fishersville at the Augusta County Library in late April, followed by a pantry in June at Gospel Light Baptist in Waynesboro, and now Staunton will have its own little pantry.
"We try to make every one a little different," said The Neighbor Bridge's Trisha Fillion, who founded the nonprofit with her husband, Chaz.
The Fishersville pantry has donated books, because it is by the library. The pantry at Gospel Light looks like a church. The Staunton pantry is made from 100 percent recycled material, except the glass, to go along with Habitat for Humanity's goals. The pantries are designed and built by Bear Creek.
Habitat is building townhomes.
"This box is kind of designed to look like the townhomes," Fillion said. The pantry is also near a BRITE bus stop just like the little pantry in Fishersville.
Three more little pantries in Staunton, Augusta and Waynesboro are planned this year, including one more in Waynesboro near Broad Street which will serve as an Eagle Scout's project.
"Our job is to stuff it when it becomes available," Fillion said.
The Fillions founded The Neighbor Bridge to fill in gaps for members of the community experiencing food insecurity.
"We basically just got out of food insecurity ourselves three to five years ago," Trisha Fillion said.
Married for 20 years, Chaz Fillion was homeless before the couple met. A couple of months after the couple moved to the Valley, they unexpectedly found themselves homeless. They lived in a hotel for two months until they found permanent housing again.
"We know what it's like to just not have that meal," Trisha Fillion said.
In 2006, the couple was living in Verona with bills paid, including rent, but they had no food in their kitchen. When they visited a local food pantry, the options were limited to bread and unhealthy choices.
"I left very discouraged," she said.
They were "very happy and humbled," however, when they visited the Blue Ridge Area Food Bank and left with two bags of healthy grocery items.
"Anybody can become food insecure," Fillion said.
Holidays are more challenging when you're already food insecure, which is why the Fillions started the Staunton, Augusta, Waynesboro Thanksgifting (SWAT) event every year since 2019.
"We wanted to help three families," Fillion said of the first event, when she and her husband were just starting to feel food secure themselves.
Friends heard about what they were trying to do and donated enough ingredients for 26 families to eat on Thanksgiving Day.
Now, the Neighbor Bridge provides ingredients for 100 families the Saturday before Thanksgiving. Ingredients include a raw turkey, sides and pumpkin pie.
"Everything that's needed for a complete Thanksgiving Day meal, we give out to 100 families," Fillion said.
Sponsorships are available on the nonprofit's website for families and individuals who would like to provide items or money for the Little Free Food Pantries. Families and individuals can sponsor a week at a time and provide items for a pantry of their choice or donate $100 and the Fillions will buy items for a pantry.
Fillion said the little pantry in Fishersville has collected nearly 800 pounds of food.
"It's still fresh," Fillion said of knowing what it is like to live with food insecurity.
Saturday's ribbon cutting will be held at 11 a.m. at 818 Greenville Avenue in Staunton. Donations of nonperishable items for the little pantry will be welcomed.