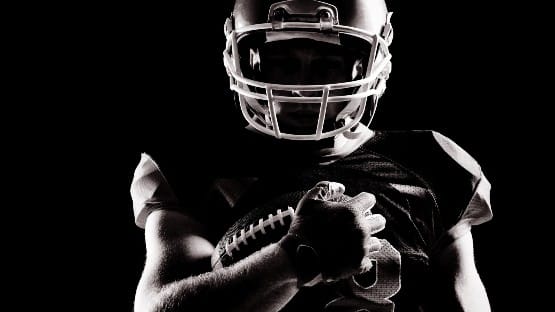 The NFL spent decades attempting to downplay any long-term effects of the concussions its players succumb to on a regular basis due to helmet-to-helmet contact. It didn't take a medical expert to realize that athletes in this arena were subjecting themselves to some potentially serious life-threatening trauma.
Initial studies documented the adverse effects of chronic traumatic encephalopathy (known commonly as CTE), which reported that over 90 percent of deceased football players who had had their brains examined by researchers at Boston University.
Credit to both the National Football League and the NCAA for initiating steps to address the issues that are becoming increasingly more difficult to ignore.
Research indicates that for every year of absorbing the pounding and repeated head collisions that come with playing tackle football, a player's risk of developing CTE increases by a whopping 30 percent, per the Annals of Neurology by a team of neurologist from Boston University.
Fears of brain injuries have deterred many parents from allowing their children to participate in full-contact football. After years of outcry regarding the dangers, football participation has declined about 10 percent in the past decade, according to data from the National Federation of State High School Associations.
More alarming is the data that suggests that most high school football rosters are filled by low-income players, as much as 25 percent in some states that have seen even a steeper decline in overall participation levels.
Now a different, even further concerning twist 
A new Harvard study says concussions are not the biggest factor when it comes to developing CTE. Instead, routine repeated hits to the head, whether concussive or not, can lead to more damaging, fatal brain injuries.
"The problem is, when we're talking about CTE risk with NFL players, their exposure didn't happen at the NFL level," said Dr. Dan Daneshvar at the CTE Center at Boston University and Harvard Medical School.
Dr. Daneshvar states that studies strongly suggest that the most forceful hits suffered by football players aren't even happening during a typical NFL contest.
More likely it's practice at the collegiate and high school level that the initial damage is occurring.
"If we eliminate half of the head impacts that occur in practices based on just eliminating those practices, no changes to the game at all, we could decrease the risk of CTE for an average, say, offensive linemen by over 50 percent over eight years," said Daneshvar.
Linemen, because of the position, are significantly more prone to developing CTE than players at other positions.
Former Virginia coach Bronco Mendenhall understood the risk
In 2021, during preseason practice, former Virginia football coach Bronco Mendenhall addressed the media before a preseason workout regarding his approach to limiting his team's weekday full-contact workouts.
"It's a delicate balance. Each scrimmage session is necessary to prepare your team, but self-against-self doubles the chance of injury, and parity and limited rosters are what every college football team faces," Mendenhall told the gathered media.
Mendenhall said his number one priority was keeping his players healthy, in practice, in 2021. Two years ago, before the most recent study that link practice, at lower levels than the NFL (college, high school), as the initial culprit. Not necessarily concussions, routine helmet-to-helmet contact.
Mendenhall's methodology was often criticized, many pointing out the porous Cavalier 2021 defensive numbers were a result of his limited contact practice approach.
"We have stations, we have turnover drills, we have other things to do, but none of that directly simulates the culture needed to when it happens live," said Mendenhall.
"But I'm not willing to make the trade for volume of contact to promote that, because my players matter more," concluded Mendenhall.
Days after the conclusion of the 2021 campaign, Mendenhall resigned from his position as head coach of the Cavaliers.
It's not just head injuries gaining concern 
A recent study conducted by the American College of Cardiology found that certain conditions like atrial fibrillation or arrhythmias were up to five times as common in football players when compared to the public.
Other cardiovascular concerns, such as structural changes in the heart, were increased in football players.
A potential cause of Buffalo Bills safety Damar Hamlin's jarring collapse and cardiac arrest witnessed in real time by millions on Monday Night Football was immediately recognized by medical personnel on the field. That quick response was credited with saving Hamlin's life.
There were several potential causes for Hamlin's cardiac arrest, but many cardiologists suggest that a rare phenomenon called commotio cordis was to blame.
A healthy heart, when hit with a blunt force at a specific time, can launch into an abnormal and potentially deadly rhythm.  It's more about the timing of the blow than the force, say many cardiologists.
However, studies also suggest that early direct impact to the chest cavity can deter heart tissue, ribs and lung development that are vital for heart protection.
Hits that occur earlier than at the NFL level, as far back as the little league level, where a young person's body integrity is just forming, can accumulate over time. Hamlin's life was credited for being saved by the NFL protocol that the field was surrounded by experienced, trained medical personnel. Those standards simply do not exist in college football, even at the highest level, and certainly not in high school football.
Currently the NFL mandates at least 27 medical personnel to be on site for each team on game days. That group includes athletic trainers and doctors who specialize in head and chest trauma.
So, if football is so dangerous, why is it so popular? 
Football is both notorious and treasured for its on-field violence. For many years, getting knocked cold on the field was considered a gold standard. Every fan knew getting knocked cold had consequences, but it made a minor difference. Like why so many people said they liked going to NASCAR races for the multi-car collisions. But cars can be dragged into the infield, and the race continues. Not much different than watching a football player being carted off the field, the fans clap, the game eventually continues.
But things are changing, rapidly changing. First with the concussion studies and now the findings that it's first the repeated exposure to direct blunt impact to not only the head but the chest cavity that is the initial concern.
The old belief that football was a dangerous sport that was getting a little more dangerous didn't matter now is being to matter, and matter a lot.
The popularity at the NFL level and major college football is at an all-time high. The television ratings and the millions of dollars being paid and made by the NFL and college teams are proof of popularity. For now.
But the winds of change are blowing
The decline of participation at the lower levels, little league and high schools are inevitably going to turn problematic. The domino effect.
Fewer kids playing in grade school results in fewer playing at the high school level, and eventually that influences the talent pool for both the NCAA and NFL.
Boxing was once a hugely popular sport in the United States. Thoroughbred horse racing was once referred to as the "sport of kings."
But those two sports are and have suffered significant declines in interest and popularity. Now danger and injuries matter, people are paying attention.
Football is not immune.