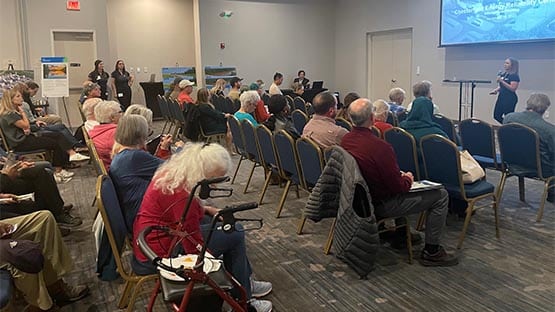 More than 60 Chesterfield residents showed up to a Dominion Energy-led hearing on a proposed Energy Reliability Center this week to voice their opposition to the 1,000-megawatt methane-gas powered plant.
Residents expressed anger and serious concerns regarding potential pollution in the area.
"I'd rather sit in the dark than breathe poison," said Frances Broaddus-Crutchfield following a presentation from Dominion on the air pollutants the plant is expected to generate.
A parent who lives near the proposed site also expressed concerns about her child with asthma.
"As a parent of a child who is already negatively impacted, this is just going to add to it," said Lindsey Dougherty. "We are going to bear 100 percent of the negative health impacts and the costs as ratepayers. I'm very interested to know if I'm going to be reaping 100 percent of the benefit."
The president of the Chesterfield NAACP spoke during a news conference organized before the Dominion briefing.
"We know what these harmful toxins have done to us in the past," said Nicole Martin. "If you know better, do better … Dominion Energy not only has that fiscal responsibility to residents of Chesterfield County but also the social responsibility."
A board member for the Friends of Chesterfield asked Dominion to explore other options.
"Have you considered an option that would be clean energy that would not put toxins into the air that would be working 100 percent of the time to generate power for us for this site?" asked Aliya Farooq.
The plant represents Dominion's first proposal for a new fossil fuel-fired facility after the passage of the Virginia Clean Economy Act in 2020. The plant requires a conditional use permit from the Chesterfield County Board of Supervisors in addition to an air permit from the Virginia Department of Environmental Quality and approval from the State Corporation Commission.