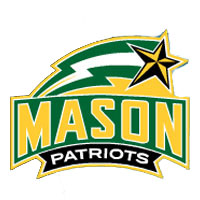 George Mason men's basketball coach Paul Hewitt has announced the addition of Roland Houston to his coaching staff. Houston, an assistant at George Washington the past seven seasons, will join the Patriots in the same capacity. Additionally, Hewitt announced that Scott Lombardi will be retained as the team's director of basketball operations.
"I've known Roland for over 10 years – he has extensive recruiting experience up and down the I-95 corridor," said Hewitt, who was hired on May 2 to lead the Patriots. "He also brings with him 13 years of playing professional basketball overseas where he became fluent in French and Spanish. One of my objectives when filling out the staff was to bring someone who could expand the recruiting base beyond the U.S."
Houston joins Mason after seven seasons at GW, including the 2010-11 season in which he served as associate head coach. Prior to his time in Washington, Houston was an assistant and associate head coach at La Salle University from 1999-2004.
At GW, Houston's responsibilities included recruiting and working with the Colonials' post players as well as game and practice preparation. Over the course of his tenure in Foggy Bottom, Houston played an integral part in the Colonials earning two regular season Atlantic 10 championships, becoming two-time Atlantic-10 Tournament Champions and securing three NCAA bids.
A Philadelphia native, Houston began his basketball career as an All-City Selection and Honorable Mention All-American at Martin Luther King High School. From Philadelphia, Houston went on to a prosperous career at the University of Rhode Island. At URI, Houston was a four-year letter winner and three-year starter for the Rams (1979-82). Houston played in 105 career games at URI and averaged 12.8 points and 10 rebounds a game as a senior. The Rams were ranked among the top 20 teams in the nation during two of Houston's four seasons at URI.
Houston received his bachelor's degree in communications from URI in 1982. After college, Houston played professionally overseas for 13 seasons for teams in France, Spain, Israel and Argentina where he was a member of the national championship team. While playing in France, Houston studied French at the Universite' de Nice.
Proficient in French and Spanish, Houston resides in Alexandria with his wife, Lisa, and daughter Zuri, 13.
Lombardi will begin his third season as the Patriots' director of operations and his fifth season with the team overall. Continuing his role from the past two seasons, Lombardi is responsible for team travel, film exchange, practice scheduling, and camp planning. He was the team's graduate manager in 2007-08 and served as video coordinator for the 2008-09 season.
"In two short weeks, Scott has thoroughly impressed me with his organization, work ethic and knowledge of George Mason University," Hewitt said. "It was a very easy decision to keep him part of our program."
Houston and Lombardi join a staff that already includes assistant coach Chris Kreider, who was hired on May 5.