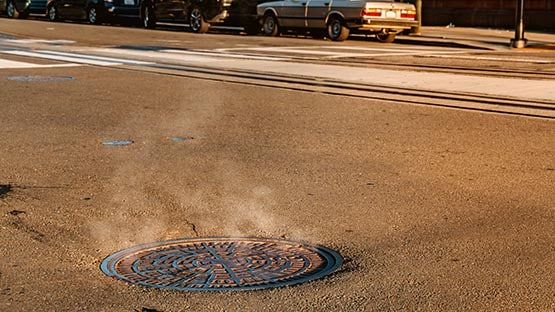 The City of Harrisonburg's public utilities department is conducting its annual testing of the sanitary sewer system starting this week and running through November.
The effort involves release of a non-toxic and non-staining test smoke into area manholes which will travel through the sanitary sewer system.
The purpose of this testing is to detect any breaks or leaks in the city's system and make appropriate repairs.
During this time, residents may notice smoke rising from manhole covers, yards where systems run or even from their bathtubs, toilets or sinks.
This year's testing will take place in the following areas:
| | | |
| --- | --- | --- |
| Amherst Court | Howard Lane | Queen Anne Court |
| Augusta Circle | James Place | Rex Road |
| Bartlett Court | Kingston Court | Rockbridge Circle |
| Canterbury Court | Laurel Street | Russell Drive |
| Cedar Street | Logan Lane | Sharon Lane |
| Central Avenue | Lynne Place | Sharpes Drive |
| Chestnut Drive | Main Street (South) | South Avenue |
| Colonial Drive | Maplewood Court | Southampton Court |
| Dale Circle | Middlebrook Street | Starlight Court |
| Dogwood Drive (South) | Millwood Loop | Suncrest Court |
| Easthampton Court | Moonview Court | Toppin Blvd |
| Elmwood Drive | Mosby Court | Vale Circle |
| Emery Street | Mosby Road (West) | Wakefield Court |
| Erickson Avenue | New York Avenue | Walker Street |
| Heatwole Road | Northampton Court | Weaver Street (West) |
| Hidden Creek Lane | Pear Street | West Avenue |
| High Street South | Perry Street | Westhampton Court |
| Hillandale Avenue | Pleasant Hill Road | Wyndam Woods Drive |
| Hope Street |   |   |
These businesses and organizations will also see smoke testing in their area:
Wal-Mart, 2160 John Wayland Hwy.
Thomas Harrison Middle School, 1311 W. Market St.
Sentara Healthcare, 1661 S Main St.
Harrisonburg-Rockingham Community Services Board (Summit House), 1888 Pear St.
Mosby Heights Housing Authority, 2510 Mosby Court
The city has a total of 190 miles of sewer lines and a section of those lines are tested each year.
Some smoke will be seen being released from rooftop plumbing vents, which is an indication of a properly installed plumbing system.
Tips for residents
Pour one gallon of water into the drain traps of floors, sinks, showers and tubs, which will prevent sewer gases or smoke from entering a home or business.
If the non-toxic smoke enters a residence or business, this is a sign of a defect in the plumbing. When this occurs, there is no need to contact emergency services. Open a window or door for ventilation, note the location of the smoke and contact a qualified plumber.
Anyone with respiratory or cardiovascular conditions should not stay in a building where smoke has entered as a precautionary measure.
Anyone with questions may contact the Public Utilities Department at (540) 434-9959.