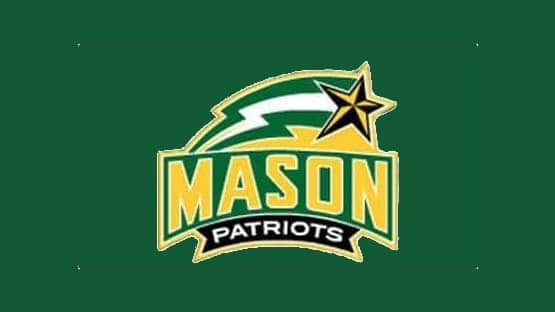 George Mason is quietly putting together a nice season, getting its sixth straight win on Saturday in dramatic fashion, on a steal and a bucket from Davonte Gaines in the final seconds to get past Richmond, 62-60.
The Patriots (19-12, 11-7 A-10) trailed 60-58 with 33 seconds to play after Richmond's Tyler Burton hit a three-pointer in the corner. On the next Mason possession, junior Ronald Polite III drew a foul and hit both free throws to tie it up at 60-60 with 25 seconds left.
Richmond had a chance to win it, but on the Spiders' final possession, Gaines jumped the passing lane, stole the ball from Matt Grace and converted a difficult finish to put Mason up 62-60 with four seconds left.
A last second heave from Isaiah Bigelow rimmed out and the Patriots held on for their third-straight road win and sixth victory overall heading into next week's A-10 Championship in Brooklyn.
It's Mason's longest-league winning streak since the Patriots joined the A-10 in 2013-14.
"This wasn't a pretty win, but we battled and gutted," Mason coach Kim English said. "Points were hard to come by, but our guys fought and scratched and just found a way to get the victory on the road."
Gaines proved sensational for the Green & Gold throughout the contest while pouring in a career-best 23 points on 8-of-13 shooting (4-of-9 three-point FG). He also grabbed eight rebounds and was a +18 when on the floor for the Patriots.
Josh Oduro added his A-10-leading 12th double-double with 12 points and 10 rebounds, while Polite III chipped in 12 points (3-of-6 FG, 6-of-7 FT) and a game-high five assists.
Mason led by as many as 18 (47-29) in the second half, but a 23-4 run by the Spiders gave Richmond the lead late in the stanza. Mason struggled from three-point range (4-of-20, .200), but made up for it on the defensive end, much as the Patriots have done throughout the winning streak.
The Patriots held the Spiders to just 37.8 percent (17-of-45) for the game and 29.4 percent (5-of-17) from three-point range.
On the other end of the floor, George Mason enjoyed a sizable +14 (36-22) edge in points in the paint for the game.
George Mason now enters the 2022-23 Atlantic 10 Championship next week. The Patriots have cliched a first-round bye and will open play on Wednesday, March 8. The Patriots will be either the No. 5 or No. 6 seed in the tournament.