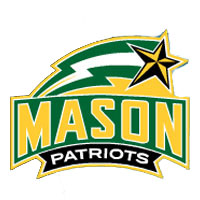 Despite five Patriots scoring in double-figures, three posting double-figure rebounding numbers and George Mason dominating on the glass, the Patriots fell in the opening round of the 2016 Atlantic 10 Championship to Saint Louis, 83-78.
Shevon Thompson set an opening round record pulling down 15 rebounds as the senior center finished with his 13th double-double of the season chipping in 10 points.
GAME NOTES
-The first half witnessed five ties and nine lead changes as the Patriots trailed at halftime 32-23 after being held scoreless the last four minutes. Marquise Moore tied the contest at 23-23 with a layup at 4:32, but the Billikens closed the half with a 9-0 run to carry the halftime advantage.
-SLU hit six three-pointers and shot 40.6 percent in the first half and did not take a trip to the free throw line in the first 20 minutes. Mason was led in scoring by Jaire Grayer with eight points, while Marcus Bartley contributed 14 points in the opening period for the Billikens.
-Mason came out of the halftime break strong as a Moore bucket with just over three minutes expired pulled the Patriots within one, 36-35, but SLU responded with a 7-2 spurt to grab a six-point lead with 16 to play.
-The Patriots tied the game twice in the next five minutes, but SLU answered the runs and took a double-digit lead on a Davell Roby bucket with nine minutes left to play.
-Grayer would jumpstart a 12-2 Mason run over the next two minutes as the Patriots closed the deficit to one point 63-62 with 6:15 remaining.
-The Billikens would hold their lead as the Patriots battled hard to erase their deficit. Marko Gujanicic hit a three-pointer with 9.9 seconds on the clock to bring Mason within one possession, but SLU finished 3-of-4 from the free throw line to claim the victory.
STAT BREAKDOWN
-Mason outrebounded Saint Louis 53-30 led by three Patriots with double-figure rebounds. Thompson led the way with 15 boards, while both Gujanicic and Jalen Jenkins added 11 apiece. The Patriots tallied 21 second chance points off 17 offensive rebounds. Marquise Moore led Mason with 17 points and was one of five Patriots to finish in double-figures.
-Bartley led Saint Louis with 24 points off the bench followed by Roby with 18 points as SLU picked up 49 points of the bench.
-SLU hit 12-of-23 three-point attempts and finished 15-of-22 from the free throw line. Mason was 22-of-27 from the charity stripe led by Moore's 9-of-11 effort.