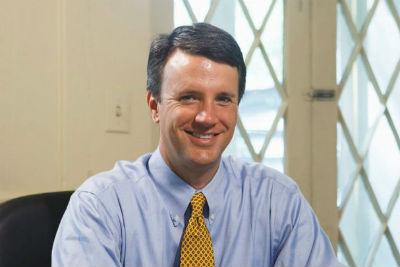 I posted here on June 10 about Congressman Cline's lack of reaction to the first hearing this month of the House Select Committee investigating the circumstances surrounding the January 6 pro-Trump insurrection at the U.S. Capitol
On June 16, three days after the second hearing, Cline was asked in an interview on WHSV-TV about the committee and the testimony it heard.
First Cline refused to answer whether he agrees with Donald Trump's former attorney general Bill Barr and Trump campaign officials that there was no evidence of widespread voter fraud in the 2020 election.
He was asked if he had seen Barr's testimony. He replied, "I have not."
Has he watched any of the testimony, almost entirely from Republicans?
He complained: "We're not seeing the cross-examination of witnesses. What we're seeing is an echo chamber designed by Nancy Pelosi to arrive at a preconceived conclusion. He added, "The January 6 commission is an echo chamber and we're only going to hear that testimony that the January 6 commission wants us to hear."
Of course people like Mark Meadows, John Eastman and Jeffrey Clarke– who presumably could challenge the testimony of the witnesses implicating Trump– have refused to testify or invoked the Fifth Amendment.
And the Republicans on the committee– Liz Cheney and Adam Kinzinger– are not taking instructions from Nancy Pelosi.
Asked about his vote in Congress after the January 6 insurrection to reject the electoral votes for Joe Biden from Arizona and Pennsylvania, Cline said, "I stand by my objections."
And he refused to answer when asked if Joe Biden won a fair election.
Despite the testimony from Barr and other Republican officials denying claims of massive voter fraud, Cline continues to support Trump's debunked objections.
He said: "I signed onto the lawsuit asking the Supreme Court hear these challenges to a lot of what we were seeing across the country. That lawsuit was rejected by the Supreme Court. But this, I believe there should have been the opportunity in court to allow a lot of that evidence to be presented, much of which dealt with a lot of activities around the polls that were controversial and some of which, as I said, were in violation of the law."
Cline shrugged off the 60 lawsuits lost by the Trump campaign seeking to overturn election results, saying they were mostly procedural. "There were a lot of allegations and very few of them were actually heard on the merits."
You mean like this one, Congressman?
I doubt Cline bothered to watch the powerful testimony Tuesday by Cassidy Hutchinson, former aide to Trump's chief of staff Mark Meadows, which might have interfered with his own preconceived conclusions.
Does Cline care that Trump knew that many of his supporters were armed on January 6, but told them to march on the Capitol? Or that Trump tried to grab the steering wheel of his limousine from a Secret Service agent who was driving him back to the White House instead of the Capitol and lunged at an agent? Or that his reaction to the chants of his supporters to "Hang Mike Pence" was that "Mike deserves it"?
Perhaps Cline was among the Republican lawmakers who were "privately stunned." But I doubt it.
Oh, and Congressman: The Select Committee is still seeking testimony from your pal Jim Jordan.
Gene Zitver is the author and editor Cline Watch, which monitors the statements, positions, legislative activities, votes and campaign finances of Ben Cline, who represents Virginia's Sixth Congressional District in the U.S. House of Representatives.