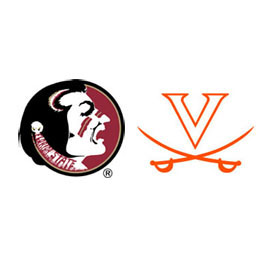 Three weeks ago, when UVA football was 4-2 at the midway point of what needed to be a turnaround season, for a lot of reasons, it was at least plausible to think that the game in November with defending national champion Florida State could at least be competitive.
And that was before #2 FSU had fits with Louisville, a team that lost 23-21 in Charlottesville in September, and led the Seminoles 21-0 just before the half and 24-7 early in the third quarter, before Heisman Trophy winner Jameis Winston hit the play button to jumpstart a 42-31 come-from-behind win.
But it was also before Virginia lost a tough one at Duke, gave one to North Carolina in Scott Stadium and then laid a mushy egg at Georgia Tech to turn a solid 4-2 start into a middling 4-5 mark that has 'Hoos coach Mike London on the wrong side of the hot seat debate.
Momentum being whatever it is, UVA football is on the wrong side of it right now, but momentum in football is only as real as whichever team is blocking and tackling the best that particular Saturday.
Which brings us to Tallahassee on Saturday night. Florida State is anywhere from an 18- to 20-point favorite, and for good reason.
Offense: Yeah, Florida State is good, putting up 38.4 points and 459.0 yards per game, but that actually represents a step or two back from what FSU was able to do in 2013, when the 'Noles scored 51.6 points per game and rang up 519.1 yards per game. Winston has been good, not great, in his post-Heisman season (67.2 percent completions, 2,279 yards, 16TD/9INT, 154.5 passer rating). The running game has taken the most noticeable step back, gaining 131.8 yards per game and 4.2 yards per carry in 2014 after gaining 203.1 yards per game on 5.6 yards per carry in 2013.
Virginia is still trying to figure out what it is on offense, not a good place to be heading into Week 10. The Cavs score 26.7 points per game and gain 397.6 yards per game. Starting quarterback Greyson Lambert is reportedly one of the best quarterbacks in college football weekdays, but he leaves it on the practice field, putting up pedestrian numbers on Saturdays (60.4 percent completions, 1,055 yards, 5TD/8INT, 113.09 passer rating). The running game gains 153.7 yards per game on 4.1 yards per game, but has been underutilized of late in offensive coordinator Steve Fairchild's game plans.
Defense: Another area where FSU has regressed from 2013, when the defensive unit gave up just 12.1 points and 281.4 yards per game. The 2014 Seminoles D has been gashed in comparison, giving up 22.8 points and 388.4 yards per game. The pass defense is just ninth in the ACC in efficiency (126.1 opponent passer rating), and FSU has recorded an anemic 12 sacks through eight games. The 2013 'Noles had 33 sacks in the 14-game run to the national title. The run defense gives up 148.0 yards per game and 3.8 yards per rush, and Florida State has forced 15 turnovers that the team has converted into 114 points.
Virginia gives up 24.2 points and 345.1 yards per game, has a slightly better pass defense (eighth in the ACC in efficiency, with a 123.4 opponent passer rating), a slightly better run defense (119.4 yards per game, 3.3 yards per carry), with a much better pass rush (26 sacks) and an advantage in turnovers forced (21, leading to 75 UVA points).
Special Teams: Nice battle of the placekickers. FSU's Roberto Aguayo is 14-of-15 on field goals this season, 3-of-4 from 30-49 and 2-of-2 from 50+. UVA's Ian Frye is 17-of-20, 4-of-5 from 40-49 and 0-of-2 from 50+. UVA punter Alec Vozenilek is averaging 43.1 yards per kick, but Virginia's poor punt-coverage team performance has the Cavs dead last in the ACC in net yards per punt.
Breakdown: On paper, this isn't the blowout that seems to be the foregone conclusion. This isn't the 2013 Florida State team. The Seminoles defense is average at best, and the offense turns the ball over too much (16 turnovers in eight games). That's why the 'Noles have had to come back from two 24-7 deficits. Why FSU can come back from 24-7 deficits is Winston and that offense, which is nonetheless not producing as it did a year ago.
Virginia can be competitive in this one. I'm an idiot for thinking so, I know, but I don't see this one being the rout that so many, including Vegas, assume will be the end result.
Injuries on the line and at wide receiver will force an even more conservative offensive game plan from Fairchild, which may be a blessing in disguise. The Cavs have gotten away from the run the past three weeks, but if Fairchild works to establish the run early to keep Lambert out of trouble and finds success, Florida State can be run on.
Avoid the turnovers, get pressure on Winston, get him off his timing, and prevent the big plays that Florida State used in its comeback wins over Louisville and N.C. State, and UVA can …
No, I'm not going to go UCLA on this one and shout from the mountaintops that Virginia is going to pull the upset.
If I was feeling that lucky, I'd buy the lottery ticket and a one-way ticket to paradise.
I'll leave it at, Virginia will be competitive on Saturday.
– Column by Chris Graham