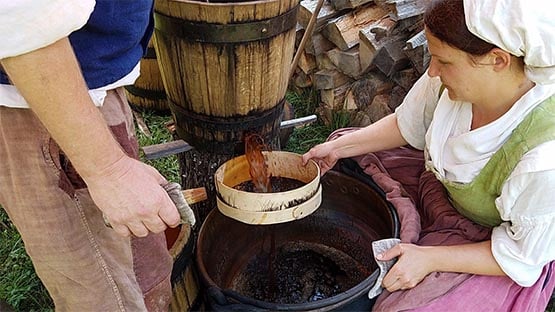 The Frontier Culture Museum in Staunton has released its schedule of fall events that include a Revolutionary War Weekend and its annual Oktoberfest.
The Frontier Culture features costumed historical interpreters who show the life and customs of the indigenous Native American tribes in Virginia, the arrival of the German, English and Irish settlers along the Great Wagon Road and the painful journey of the enslaved Africans to the first permanent British colony in North America.
Visitors may also interact with a blacksmith at an Irish Forge, woodworkers, tailors and yarn spinners, and learn how the early settlers of America cooked and worked the land.
The Frontier Culture Museum is located at 1290 Richmond Ave. in Staunton.
Revolutionary War Weekend: Global Tempest
Saturday, Sept. 16 – Sunday, Sept. 17
Join the Revolution that sparked a world-wide conflict. Global Tempest: A Revolutionary War Weekend, will see highly skilled reenactors and historians from across the country transform the Frontier Culture Museum into a world at war. Included with general admission tickets into the museum.
2023 Lecture Series
Tuesday, Sept. 19
Join the Frontier Culture Museum for the next installment of the 2023 Lecture Series. This month's lecture is "Alexander Spotswood's Germanna: A Gateway to Colonial Virginia's West" presented by Dr. Eric Larsen from the Germanna Archaeology Foundation. The lecture starts at 6 p.m. in the Dairy Barn Lecture Hall and is free and open to the public.
Oktoberfest
Saturday, Oct. 7
This year, the museum will be joined by the Stonewall Brigade Band, SGTEV Hirschjäger, and the Edelweiss Band for non-stop music and fun. Venture into the museum to learn how 18th century Germans brewed beer and cooked for festivals and special feast days. Explore the American exhibits and see how German culture continued in the descendants of those who immigrated to the American colonies. Beer will be available for purchase at the Lee S. Cochran Pavilion. Brats and More will be on-site, as well as Rick's BBQ & Catering, serving up traditionally styled German food. This is a special ticketed event.
Archeology Day
Saturday, Oct. 21
Join the Frontier Culture Museum for its annual International Archaeology Day celebration. Try your hand at excavation with our dig boxes and come see our experimental pottery firing on the Eastern Woodlands Indian site.