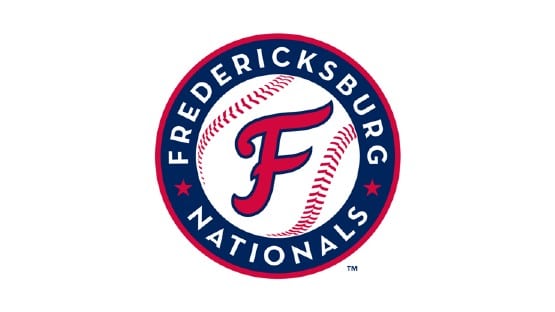 The red-hot Fredericksburg Nationals will be riding a season-long, four-game winning streak into a 13-game homestand at Virginia Credit Union Stadium. It all starts Tuesday with the resumption of a suspended contest from April 22 against Delmarva.
The Freddies (17-25) took four of the last five games last week at Salem, and will be looking to build off of the success in front of their home crowd over the next two weeks. The Nats let a three-run advantage slip away in the ninth in the opener against the Red Sox last Tuesday, but responded with a five-run top of the ninth of their own on Wednesday to even the series.
After collecting two more wins on Thursday and Friday, Fredericksburg clinched the series in style Saturday with a 9-2 triumph. Sunday's game was canceled due to weather and will not be made up.
Down on the farm
Third baseman Brady House (No. 5 prospect in the Washington organization) had a huge game in what turned out to be the series finale Saturday, blasting his team-leading fourth and fifth home runs of the season, part of a 3-for-5, 2-RBI day that saw him touch 10 total bases.
House, the 11th overall pick in the 2021 draft, has hit safely in seven-consecutive games and 10 of his last 11, and is now batting .296 on the season.
Center fielder Elijah Green (No. 3), the fifth pick in last year's draft, went 5-for-17 with 6 runs, 5 walks and an RBI against the Red Sox, but struck out eight times in the process. He's up to 71 strikeouts in 139 at-bats this season.
Left fielder Daylen Lile (No. 15) collected hits in four of the first five games against Salem, but failed to drive in a run all week. The 2021 second-rounder (No. 47 overall) still leads the team in RBI (23), doubles (9) and runs scored (25).
First baseman Roismar Quintana (No. 16) only played twice last week, but had a big hand in Saturday's series-clinching victory, finishing 3-for-5 with an RBI.
Shortstop Armando Cruz (No. 13) was 2-for-13 in his three games against the Sox, and is now batting just .137 (7-for-51) in the month of May, while right fielder Brenner Cox (No. 22) went hitless (0-for-6, three strikeouts) in two games against Salem.
Although he's not currently listed among the Nats' top prospects, third baseman Murphy Stehly, a 2022 10th-round selection out of Texas, has been impressive offensively for the Freddies. Stehly is riding a 15-game hit streak, and went 6-for-9 while driving in five runs on Friday and Saturday in Salem.
From the hot corner, Stehly also started a highlight-reel, 5-4-3 triple play during the fourth inning of Friday's win.
On the mound, Jake Bennett (No. 9) tossed a gem in the series opener, going six shutout innings on five hits with no walks and five strikeouts. The 2022 second-round pick out of Oklahoma is now 1-3 in eight starts on the season with a 1.98 ERA and a team-high 45 strikeouts in 36.1 innings.
Jarlin Susana (No. 6) lasted four frames on Wednesday, giving up two runs on three hits with five punchouts and a pair of walks. In his seven starts in '23, the 19-year-old is still looking for his first win (0-3) with a 4.18 ERA and 30 strikeouts in 23.2 innings.
Cole Henry (No. 12), who had a pair of solid starts this month for the Freddies as part of his rehab assignment from Triple-A Rochester, was promoted to High-A affiliate Wilmington last week.
Delmarva
The Shorebirds (23-20), Baltimore's Single-A affiliate, took four out of five in the first series of the season against the Nationals — in Fredericksburg — in late April. Delmarva dropped four of six two weeks ago at Charleston before taking the series 4-2 last week at home against Lynchburg.
The Shorebirds, who are currently 1.5 games back of the first place Mudhens in the Carolina League North Division standings, only have three of the organization's top 30 prospects on the roster, but have several solid contributors to help make them a contender.
Samuel Basallo (No. 10 in the Baltimore farm system) is a talented, 18-year-old lefty-hitting catcher with a powerful bat. He's hitting at a .299 clip with a team-high 46 hits, 11 doubles, 4 homers and 37 RBI in 38 games in Salisbury this season.
Shortstop Carter Young (No. 28) was chosen in the 17th round last season out of Vanderbilt, and has struggled at the plate since turning pro, averaging just .176 with 52 strikeouts in 2023.
Carter Baumler (No. 21) is a 2020 fifth-round pick who has battled injuries in his young professional career and has yet to take the mound for Delmarva this season.
This week
Tuesday's first game (5 p.m. first pitch) will resume play in the bottom of the second inning with two runners aboard and nobody out, with Delmarva holding a 2-1 lead.
The two teams will then play the regularly scheduled game Tuesday night (7:05 scheduled start time). The FredNats will still hit the road to face Delmarva twice in 2023, once in July (4-9) and again in the regular-season finale in September (5-10).
The Nats will stay put in Fredericksburg next week with a six-game set against Charleston before heading south for a two-week trip to South Carolina against the South Division's top two teams (at Myrtle Beach, at Columbia).